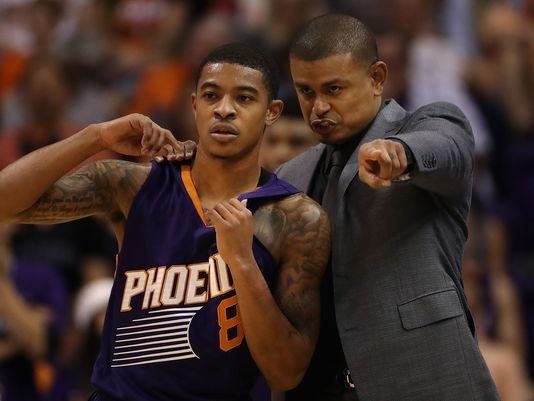 Being a young team that is out of playoff contention, the Phoenix Suns have decided to bench their veteran players such as Brandon Knight and Tyson Chandler. This has given the younger talents on the roster an extended look as of late. As a result of that increased playing time, Tyler Ulis is now playing well and flashing exciting potential for the Suns.
Listed at a generous 5'10", Ulis was drafted by Phoenix with the 34th pick in the NBA Draft this past offseason. At the start of the season, Ulis found himself behind the returning Eric Bledsoe, Brandon Knight, and even Ronnie Price. He appeared in just 36 of Phoenix's first 57 games. In his few appearances, Ulis averaged 3.1 points and 3.3 assists in nine minutes per game.
Post All-Star Break, Ulis has been a much more effective and efficient player. In the five games he has played in since the break, he is averaging 17.5 minutes per game. With the extra playing time, his scoring has jumped to 7.8 points per game and he is now dishing out 5.6 assists per game.
While his three-point shooting has stayed consistent to his prior mark at 33 percent, he has become a much more efficient overall shooter. Shooting just 39.2 percent from the field before the All-Star break, his field goal percentage has skyrocketed to 48.5 percent. In the restricted area, Ulis is shooting a fantastic 66.7 percent and that number jumps to 70 percent in the paint.
The most encouraging aspect of Ulis' game has been his facilitating. With his 40 percent assist percentage, and a 3.50 assist to turnover ratio that puts him near league leaders like Ish Smith and Tony Parker, he has proven that he can distribute at a high level while limiting his turnovers. Among his class, he is second in assists per game post All-Star Break, only behind the impressive Yogi Ferrell. What makes Ulis' assist numbers even more impressive is the pace (104.5) at which the suns play. Being able to handle that while staying an efficient floor general is astounding.
Watch here how he is able to change his shot in mid-air and instead of shooting dish it inside to Alan Williams.
Tyler Ulis has been BALLING lately #Suns pic.twitter.com/ERhxtgPQ2k

— Justin Jett (@JustinJett_) March 4, 2017
Bottom line, Ulis has made the Suns a better team when he is on the floor. Since the break, he possesses an 8.8 net rating. Also, he is doing something that Phoenix hasn't seen in a while. He is the first Suns rookie to record seven points and seven assists in three straight games since Negele Knight did so in 1991.
He also hit the game-winning three on Sunday night against the Boston Celtics.
TYLER ULIS HITS THE GAME-WINNER!

SUNS BEAT THE CELTICS! pic.twitter.com/guv1Ud2hsE

— Def Pen Hoops (@DefPenHoops) March 6, 2017
He finished that game with a career-high 20 points to go along with five assists.
Along with Ulis, Alan Williams and Derrick Jones Jr. are receiving more minutes since the rotation move. Williams is averaging 14.8 points, 9.2 rebounds, 1.4 blocks, and one steal in over 25 minutes per game since February 23rd. Jones Jr. is also showing out with his 6 points per game on 81.3 percent shooting in 14 minutes off the bench.
The young trio of Ulis, Williams, and Jones Jr. are being given the opportunity to show what they bring to the table and Phoenix must like what they are seeing.
The only factor standing in Ulis' way is his height. His height is one of the major reasons as to why he slipped to the second round of the draft. Many, including myself, thought Ulis would be a mid first round pick. Ulis is not allowing his height to affect his career, though. He is playing superb basketball with the Suns and opposing teams are having a hard time stopping him. It looks like the Suns may have yet another above average point guard on their roster, and this time, they can't mess up and lose him.