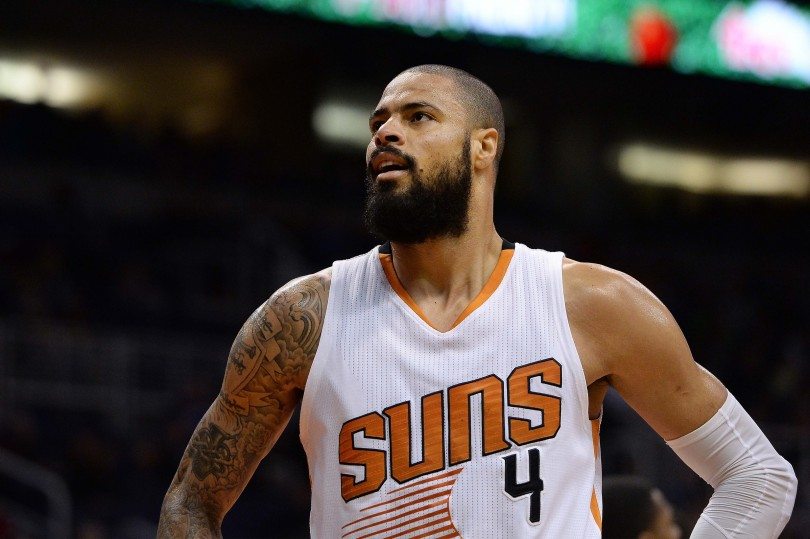 The Portland Trail Blazers are eyeing Phoenix Suns defensive big Tyson Chandler as a potential trade target, according to an ESPN.com report.
Word is Portland, of late, has been tracking Tyson Chandler as a potential trade target, since the Phoenix center could certainly help the Blazers with their defensive issues.

Chandler, 34, has two seasons left on his contract after this season valued at $26.5 million, but it remains to be seen how willing the Suns are to part with their interior anchor after Chandler encouraged the club to resist outside trade interest last summer.
Portland, one of the most disappointing teams in the league this season, has struggled mightily on the defensive end. They are ranked at a near league-worst 28th in defensive rating, which helps explain how they've cooled off this season and why they currently have a 16-22 record.
With off-season addition Festus Ezeli likely to undergo season-ending knee surgery in the near future, acquiring Tyson Chandler from the Suns would certainly be an understandable move. While Chandler, a former Defensive Player of the Year and NBA champion in 2011, doesn't perform at the respectable level he used to perform at, he is still a double-double threat each night while providing exceptional rim protection.
Chandler, at 34 years old, has averaged 7.5 points, 11.6 rebounds and 27 minutes on 68% shooting from the floor this season. His 11.6 rebounds per game is the eighth highest rate in the NBA, a quality that can certainly help a Blazers team struggling in that department (Portland ranks 26th in rebounds per game).
Moving Chandler would make sense for Phoenix, who signed him to a multi-year contract two years ago to help poach LaMarcus Aldridge to the team. With Aldridge choosing to head to San Antonio and the Suns' plan of contending suddenly dissolving away, Phoenix has jump-started its rebuilding project and centered its focus around Devin Booker, Dragan Bender and others.
Tyson Chandler is still capable of being a valuable rebounder and rim protector for teams who need his services. With Portland owning an underwhelming 16-22 record while watching from the outside of the playoff picture right now, trading for Chandler could serve as beneficial for both sides.