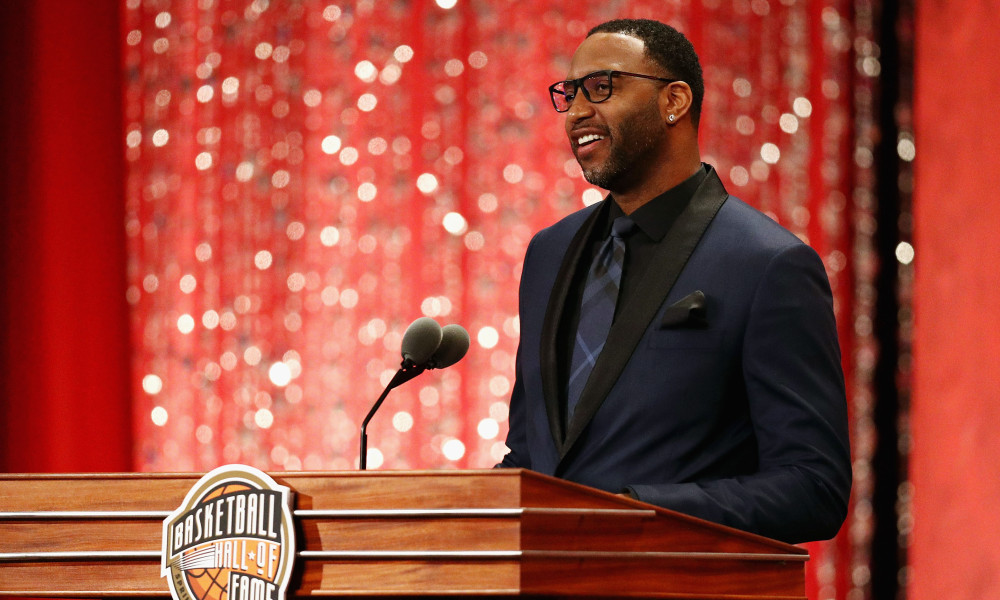 During his prime playing days in the mid-2000's, guard Tracy McGrady was one of the most unguardable scorers the NBA had to offer. Though he had his injury riddled career cut short, there is no doubt McGrady is worthy of being mentioned in the same breath as some of the best scorers of our generation.
For TMac, making the Hall of Fame was imminent and that honor finally came in 2017, just over four years after he announced his retirement from basketball. Though McGrady never won a championship, the tandem of him and Yao Ming made sure the Rockets remained a fixture at the top of the Western Conference rankings for years.
At 6'8″, Tracy McGrady had the versatility to play at either wing spot, making him a bigger matchup nightmare than he already was. With his solid frame, killer outside stroke, and insane athletic ability, McGrady was able to be among one of the most feared offensive weapons in the entire NBA. TMac had a tendency to be a bit streaky but once he got into his zone, there was nothing any defense could do to contain him as was portrayed during that historic 35-second stretch in which he poured in 13 points to stun the San Antonio Spurs.
Now having deservedly earned the highest honor possible in the basketball world with a Hall of Fame berth, you can watch McGrady give his enshrinement speech below, video courtesy of NBA on YouTube:
With news of McGrady's enshrinement into the Naismith Hall of Fame, there was also an outpouring of support and respect for the legend from current NBA stars around the league on Twitter:
The game will always be about buckets. When it comes to buckets, there was nobody like T-Mac. FOH, number 1 in the HOF. Respect OG

— Kevin Durant (@KDTrey5) September 8, 2017
One of our games greatest players. It was an honor lining up against you. Congrts on going into the HALL. #HOF#TMAC pic.twitter.com/f0fazYIKoj

— DWade (@DwyaneWade) September 9, 2017
Def gonna watch my guy @Real_T_Mac go in to the HOF! Took me in as a youngin and let me stay at his house and work out with him. He (cont)

— Jamal Crawford (@JCrossover) September 8, 2017
always made the game look so easy ( and it was) but I saw the work he put in up close. Another one of my favorites ever! #SaluteMac

— Jamal Crawford (@JCrossover) September 8, 2017
Over his 15 year NBA career, Tracy McGrady bounced around the NBA quite a bit, suiting up for 7 teams including the Raptors, Magic, Rockets, Knicks, Pistons, Hawks, and Spurs. During his illustrious NBA tenure, McGrady was a 2x scoring champion and 7x All-Star while compiling a total of 18,831 career points.