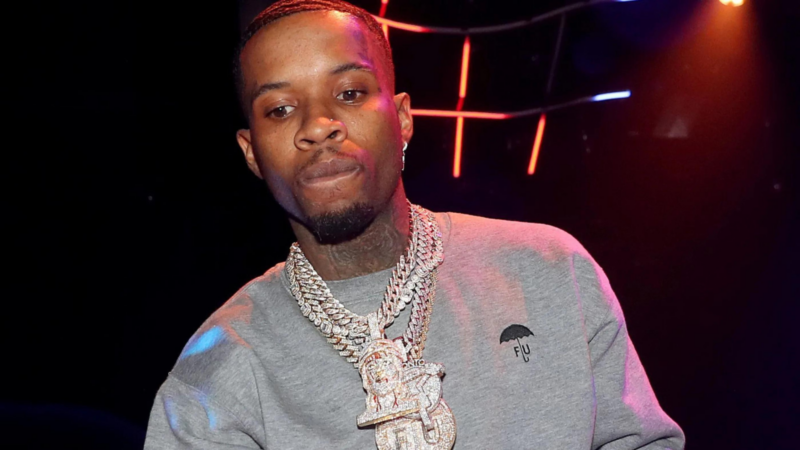 Angry screams, celebratory shouting and much more erupted from the Los Angeles Superior Court on December 23, 2022. At approximately 4:45 p.m. EST, a jury of Los Angeles County residents found Daystar "Tory Lanez" Peterson guilty of three felony crimes tied to the shooting of Megan "Meg Thee Stallion" Pete in Hollywood Hills, California on July 12, 2022. Immediately after the verdict was read, Peterson was taken into custody and transported to a nearby facility.
Tory Lanez was escorted out of the courthouse while many of his family members, reporters, attorneys and supporters of Meg Thee Stallion remained. Meghann Cuniff of Law & Crime said the gallery's reaction to the verdict was "crazy and downright scary." Meanwhile, media personality Milagro Gramz said that she has "never seen or felt anything as intense as the courtroom after the reading of the verdict or the aftermath."
Reactions to the verdict varied as attorneys and family members left the courtroom. Members of Peterson's family reportedly called the verdict an "injustice" while Pete's attorney, Alex Spiro, praised the jury's decision.
"The jury got it right. I am thankful there is justice for Meg," Spiro told Deena Zaru Pettiford of ABC News.
"It's not over. God does not lose. Even though we've come to this juncture, you will see that our God does not fail. I know that this wickedness," Peterson's father, Sonstar, said in a video captured on social media.
The Los Angeles Superior Court was not the only place where many people shared their reactions to the guilty verdict. Throughout the latter portions of the afternoon, many fans, public figures and legal experts share their thoughts on the matter.
Sending the (((biggest hug))) (((love))) & (((peace))) to Megan Pete @theestallion ????????????

— Janelle Monáe????? (@JanelleMonae) December 24, 2022
So many people owe @theestallion a complete apology. Just so much reckless misinformation and ??reporting??. So many of y'all stood with an abuser only to prove once again that Black women never are granted the grace, and protection that we deserve.

— Jemele Hill (@jemelehill) December 23, 2022
This was one of the greatest miscarriages of justice our community/hip hop has ever seen.

— Milagro Gramz (@MilagroGramz__) December 23, 2022
Megan Thee Stallion deserves more than the "justice" served in Tory Lanez's case. She deserves a culture and media landscape that doesn't demonize Black women's lives, safety, and voices.

We all need to understand that psychosocial wounds are just as harmful as physical wounds.

— Raquel Willis (she/her) (@RaquelWillis_) December 24, 2022
After being convicted of three felonies tied to the shooting of Meg Thee Stallion, Tory Lanez faces more than 20 years in prison. A sentencing hearing for Peterson will take place in 2023, but no date has been determined yet.