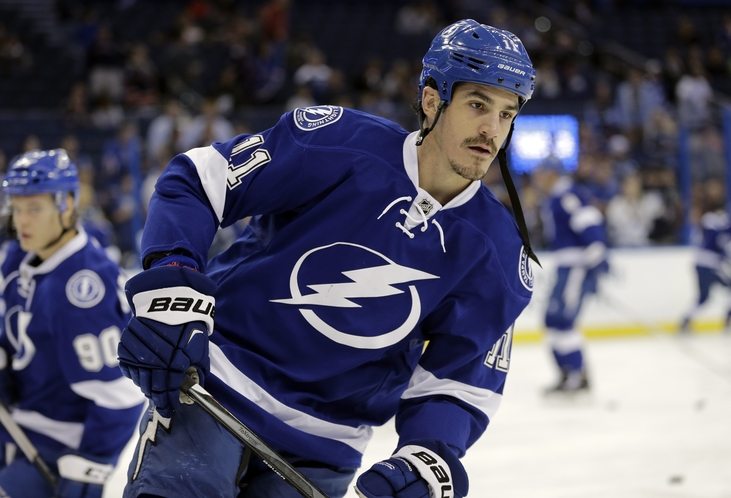 With just one day to go until the NHL Trade Deadline, a flurry of trades have happened. After last nights surprising trade of Ben Bishop, and then the top forward coming off the market in Martin Hanzal, the trade market stayed hot come Monday afternoon.
Brian Boyle was the first player moved today as the Tampa Bay Lightning continued to sell, trading Boyle to the Toronto Maple Leafs in exchange for prospect Byron Froese and a second round pick in the 2017 NHL Entry Draft.
The Maple Leafs confirmed the trade on their official website:
The Toronto Maple Leafs announced Monday that the hockey club has acquired forward Brian Boyle from the Tampa Bay Lightning in exchange for forward Byron Froese and a 2nd round draft pick in 2017.
Boyle, who is set to be an unrestricted free agent in July, joins a young Maple Leafs team without much playoff experience. He has appeared in the playoffs 6 times, including two Stanley Cup Final appearances.
The Dallas Stars and Montreal Canadians completed the second trade of the afternoon, with the Stars sending Jordie Benn to the Canadians in exchange for defenseman Greg Pateryn and a fourth round pick in 2017.
Canadians general manager Marc Bergavin commented on the trade (comments via the offical website of the Canadians):
"In Jordie Benn, we get an experienced NHL defenseman, and a player who will solidify our defensive group. While providing stability in our end, he can also contribute offensively. Greg Pateryn has been a good contributor to our team and I wish him the best of luck with the Stars' organization."
Later in the afternon, the Vancouver Canucks traded long time forward Alexandre Burrows to the Ottawa Senators in exchange for forward Jonathan Dhalen.
Burrows, 35, has 9 goals this season, matching his total from last season. While he is not the goal scorer he used to be, he brings veteran experience as well as playoff experience to a young Senators team. It is rumored that Burrows could sign an extension with the team before becoming a free agent in July.