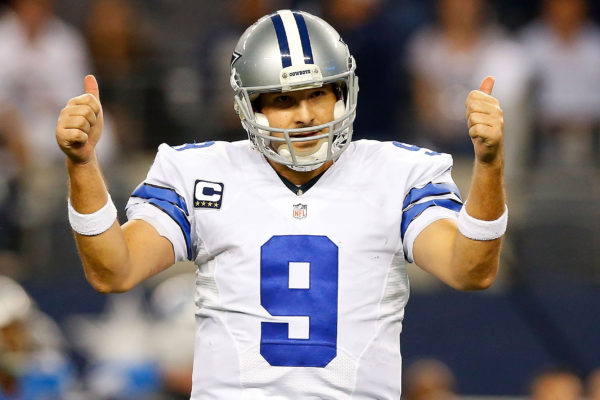 Reports, from multiple sources, broke early this morning that Tony Romo will leave the NFL to pursue a career in broadcasting. Apparently, he still has the itch to play, but this is an opportunity he can not pass up.
Tony Romo is leaving football and going into broadcasting, even with Dallas planning to release him today, sources tell @toddarcher and me.

— Adam Schefter (@AdamSchefter) April 4, 2017
Tony Romo has broadcasting opportunities from CBS and FOX, among others. He still has the itch, but those chances are too good to pass up

— Ian Rapoport (@RapSheet) April 4, 2017
Rapoport then went on to report that the Cowboys are indeed releasing Romo as they originally intended to do.
Source: The #Cowboys are releasing Tony Romo after all. It's a post-June 1 cut

— Ian Rapoport (@RapSheet) April 4, 2017
John Ourand of Sports Business Daily is reporting that Romo will join CBS and replace Phil Simms on the network's lead broadcast team.
Tony Romo will be a TV analyst with CBS next season, according to sources. A deal has yet to be signed, but CBS and Romo have reached a verbal agreement. The Cowboys QB is expected to replace Phil Simms as the net's top game analyst, where he will be paired with Jim Nantz. CBS outbid Fox Sports for Romo's services, sources said.

An unresolved question is what will happen on Thursday nights. A source says that Romo, a broadcasting neophyte, does not want to call both "TNF" and CBS' national Sunday game right off the bat.
This is likely the final touchdown pass that Romo threw. Fitting how it was against an old rival in the Philadelphia Eagles, huh?
Fittingly it looks like @tonyromo final pass in the @NFL will be this touchdown for the @dallascowboys against the @Eagles pic.twitter.com/4kOSCARQkj

— NFL UK (@NFLUK) April 4, 2017
Check out some of the reactions from people around the league. These are their initial reactions in hearing the news that Romo is leaving the NFL for a broadcasting career.
Tony Romo plans to retire from football, go into broadcasting pic.twitter.com/pDgrztcESM

— Darren Woodson (@darrenwoodson28) April 4, 2017
Hey, @tonyromo… you retiring to join @barstoolsports? I've enjoyed the decision

— Pat McAfee (@PatMcAfeeShow) April 4, 2017
Good for Tony Romo! Quality of life much more important https://t.co/ZyKdeqMfcR

— Damien Woody (@damienwoody) April 4, 2017
If this is the end of his playing days for Tony Romo, one of the most under-appreciated QBs of all-time will be leaving the game.

— Pete Prisco (@PriscoCBS) April 4, 2017
The former undrafted kid out of Eastern Illinois University finishes his career 29th all-time in passing yards (34,183), 21st all-time in passing touchdowns (248), 6th all-time in passes per attempt (7.9), and 4th all-time in passer rating (97.1).