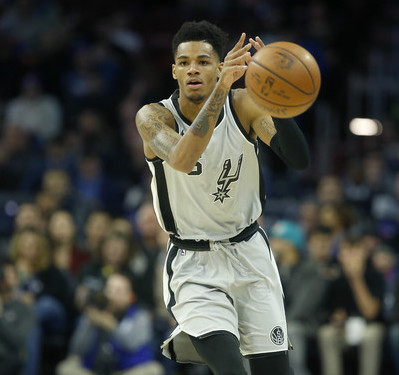 It's the dawn of a new era. Tony Parker, drafted by the San Antonio Spurs in 2001, is no longer the team's first choice of starting point guard. That honor now belongs to 21-year-old guard Dejounte Murray, Parker told Tom Osborn of the San Antonio Express-News:
"Pop told me," Parker said. "He told me he thought it was time, and I was like, 'No problem.' Just like Manu (Ginobili), just like Pau (Gasol), you know that day is going to come. If Pop sees something that is good for the team, I will try to do my best…I will support Pop's decision, and I will try to help DJ as best as I can and try to be the best I can in that second unit with Manu and Patty (Mills)."
The days of the Parker-Ginobili-Duncan trio is long gone. Parker and Ginobili are still around but are older veterans. Duncan's retired. Now, it's Dejounte Murray, Kawhi Leonard, LaMarcus Aldridge (although he's 32), Kyle Anderson. It's their team now.
Murray has started in 15 of his 48 games this season. At 6-foot-5, he has terrific height for the point-guard position. In 18.1 minutes per game this season, he has averaged 6.3 points, 4.8 rebounds and 2.5 assists per game while shooting 41.4 percent from the floor.