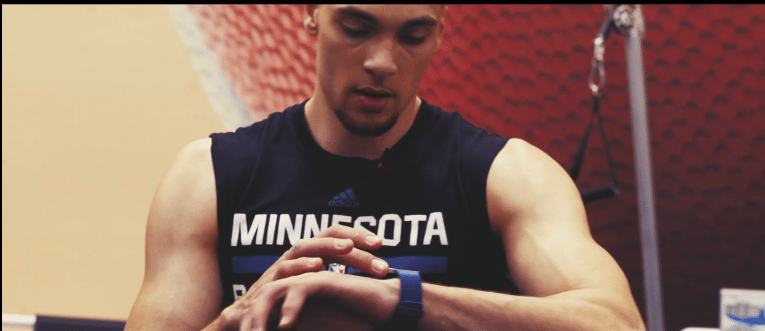 The Minnesota Timberwolves are joining the recent trend of NBA teams gaining partnerships for they jersey patches. Companies are lining up to get their logos on the jerseys and another team has announced their new partners. The Minnesota Timberwolves are going to enlist the services of Fitbit as their official wearable, sleep tracker, and jersey patch sponsor. You should see more additional trackers on the market if this is of interest.
The news comes on the same day that the Orlando Magic announced their plans to have Disney be their jersey sponsor. The T-Wolves and Magic join teams like the Cleveland Cavaliers, Boston Celtics and Utah Jazz to have a paid patch on their uniforms after the Philadephia 76ers and Sacramento Kings were the first teams to get the deals done.
Following comes from an official Timberwolves press release. You can watch Zach LaVine training with a Fitbit as he progresses in his return from a torn ACL in a video courtesy of the Timberwolves.
The Minnesota Timberwolves, as part of a series of summer announcements highlighting a new era for the organization, announced a new three-year partnership with Fitbit, the leading global wearables brand. Fitbit is now the "Official Wearable" and "Official Sleep Tracker" of the Minnesota Timberwolves, Minnesota Lynx and Iowa Wolves in a partnership that extends to the court, arena, back-office, and fans. Fitbit will provide access to devices to all three teams, including business and basketball staffs, offering personalized insights that can be used to gain a competitive advantage and improve performance throughout the organization. Fitbit's logo will appear on Timberwolves player uniforms beginning with the 2017-18 season as the team's jersey patch partner, as well as on the Iowa Wolves jerseys.

The jersey patch will be unveiled later this summer with the new uniforms. The team will wear the jerseys for the first time during two exhibition games against the Golden State Warriors in October as part of the 2017 NBA Global Games in China.

"With many synergies between our two organizations, Fitbit is the ideal partner for our first ever jersey patch," said Timberwolves & Lynx CEO Ethan Casson. "As a business, we are taking a fresh look at technology and innovation, and partnering with a company that also values the importance of data and analytics will serve us both well in the years to come. We look forward to working with Fitbit towards the common goal of improving organizational performance and serving the health and wellness of our communities."