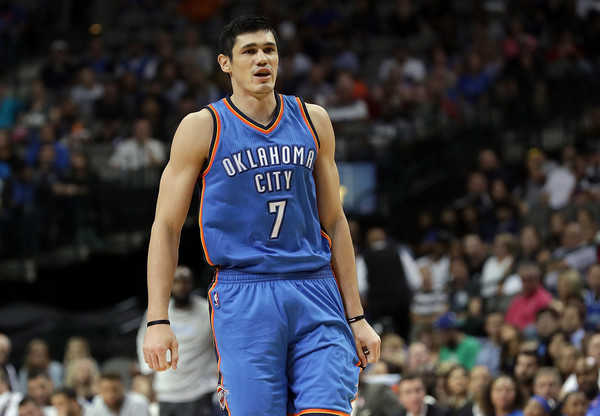 The Oklahoma City Thunder have been making moves as of late as they look to build a team around their star point guard Russell Westbrook. They negotiated extension deals with Steven Adams and Victor Oladipo and it appears they're not quite done making moves.
They did not strike a new deal with Andre Roberson before the rookie extension deadline. To combat that potential loss in restricted free agency, they went out and acquired another wing defender in Jerami Grant from the Philadelphia 76ers.
Following from Adrian Wojnarowski of The Vertical on Yahoo! Sports.
The Oklahoma City Thunder acquired Philadelphia 76ers forward Jerami Grant, a deal that clears several million in roster salary for the Thunder, league sources told The Vertical.

The Thunder sent veteran forward Ersan Ilyasova and a future first-round pick (protected Nos. 1-20) to the 76ers, league sources said. The pick turns into two future second-round picks if not conveyed, sources said. The earliest the pick could be conveyed is 2020 because the Thunder owe Utah a first-round selection in 2018.

The Thunder had been intrigued with making a deal for Grant for several months and finally struck a deal for the athletic forward Tuesday.

The Thunder have been trying to find an athletic forward to complement their roster and pursued Grant as a short-term solution. Oklahoma City has maintained a strong interest in making a deal for Sacramento forward Rudy Gay, but the Grant deal allows the franchise to save money with the departure of Ilyasova's $.8.4 million contract this season.

The deal moves the Thunder $7.1 million below the salary cap.

The Sixers found Grant to be expendable with the arrival of several young wing players, including Ben Simmons, Dario Saric and Timothe Luwawu.
For Ilyasova, at this point, he obviously viewed as a cap casualty and just another asset to get the team to the salary floor. It's hard to view him getting any substantial playing time with the 76ers. His short tenure with the Thunder was all but done once the season started with Domantas Sabonis in the starting lineup.
As Woj reports, Grant has been intrigued with the wingman for a while now and it could soften the blow of them potentially losing Andre Roberson in free agency. The Sixers future was most likely going to be without Grant included so making room for younger guys to shine along with acquiring a future first round pick is always a good trade-off.