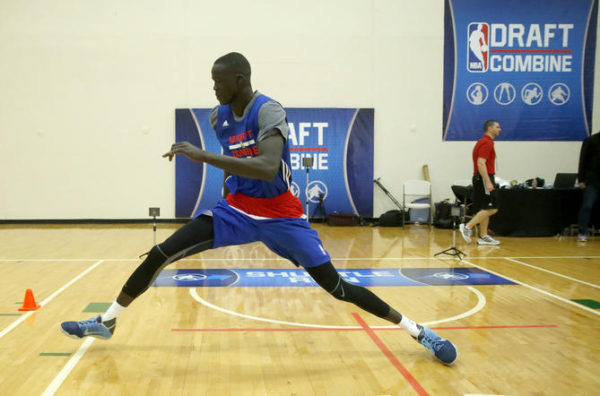 There are many players in this year's NBA Draft that are either going to be successful or will be a total bust. It's why I think that many teams that have picks outside the top 10 will most likely seek to trade their pick and get somebody more established. Keep it safe.
Out of all the players in the Draft, nobody is more of a long shot than Thon Maker, YouTube sensation and is now Draft eligible even though he hasn't gone to College. He looks revolutionary. 7″1, can shoot anywhere, has point guard handles and can dish better than a waiter in a Michelin Star restaurant, but it's so hard to gauge him. Will those silky skills that we saw in those mixtapes translate in the NBA? Thon Maker believes in himself and wants you to know that.
"I fit in very well in every single place I've been to. It's been fun going through it. I tend to stay in contact with everyone I've met along the way.

"I'm a likable person," Maker added before quickly finishing, "That doesn't mean I'm not competitive when it comes to basketball."

"There are other big guys, guys my size," Maker said after "With the bigger guys you've got to use your quickness, your speed and just outwork them on that, just keep playing…I've just got to read the mismatches."

"I've just got to go out and play and not try to prove anything, any certain part more than any other one," Maker said. "I've got to play the total package of the game and keep my composure, find my middle and compete at all times."?
Now I think of all the teams that can Draft him, they should Draft him with the expectation of not hailing him as the next big thing. They should be an established team that will Draft him with the D-League in mind. If he succeeds, the GM will be hailed as a king. If he doesn't, oh well, damn shame.