It's Thursday in New York City and I'm standing on the corner of 2nd Avenue and St. Marks Place. As I cross the street, I can see a younger white gentleman in a New York Rangers jersey pass me on my left as a Black mother pushing a stroller glides by my right. Then, there's me. A 26-year-old journalist in a Black sweatsuit that is one size too big and sneakers that have been worn down by rain and long walks to the metro. The only thing covering up my appearance was my excitement for what was to come.
Just a few feet away, I noticed the large doors of Saint opening up. Inside, there were brick walls and decor that resembled a restaurant that would be featured on an HBO show. Simply put, it was decadent, yet warm. I was shown to the back patio where vines draped the walls and intricately designed Black chairs and outdoor tables coated the floors. As best I could, I sat down and attempted to take in everything around me. Then, I was interrupted by laughter.
Three men with distinct voices delivered hilarious banter as they made their way through the dining room toward me. I could hear one man laugh as the other made a joke referencing Martin's four-season run on TV. Before the other could respond, they turned the corner and dapped me up. Accompanied by their producer and photographer, Ryan Clark, Channing Crowder and Fred Taylor of The Pivot wasted no time bringing me into their conversation. It's almost as if a director had yelled, "Action," and they had begun shooting a new episode. They started asking me about where I'm from, why I was in New York and how I liked being a journalist. Both organic and inviting, the trio immediately showcased that they are able to create conversation anywhere at any time. It just so happens that this time I was able to sit in on their discussions and throw a few questions in when I could.
Ryan Shepard: Before we got started, you were joking about working towards having a five-year run like Martin. Five months into working on The Pivot, are you surprised by how fast it has grown in such a short period of time?
Channing Crowder: Not really. When we got together and started The Pivot, I knew it'd be special because of the personalities we have and the way we vibe with each other. We also have a great production team. From the start of it, we would joke around and I would always say, "Everything is going to work out. Don't worry about it. Sh*t is going to work out." Five months later, everything kind of just fell into place.
If you want to talk about entertainment, we've got three entertaining people. It's going to be entertaining no matter who we sit down with or if it's just us three. So, I'm not surprised at all.
Fred Taylor: I'm a little surprised. I think I'm a little surprised simply because this was just a shot in the dark. We knew we put together a pretty good group of guys, but at the end of the day, it's not our decision to watch or follow the show. Really, it's about the people we're talking to and who watch every episode. When we're talking about the growth and speed with which the show has grown, it's about the people being receptive to what we're bringing to the table. In that sense, I'm surprised.
Ryan Clark: Listen, I'm surprised, but there was nothing that could have disappointed me either. I didn't want to have any expectations when we started this. We're all different in the way we approach this, which is what I think makes the show great. Our main priority is to make the show the best it can possibly be, but there are so many different perspectives on how to do that. When we met, I just wanted to put together a great show, create great content and have great conversations.
With that said, we are all people who have been in the business. At some point, we just have to cut the crap. Two of the most popular podcasts involving Black athletes that have ever been started have these two dudes in it, right? That's not a coincidence. Without the support of the people, you can't start one podcast, blow that up to what it was and then create another successful podcast in five months. The bottom line is that if you take those two along with our producer, Alicia Zubkiowski, and do the right things along the way, your show is going to grow.
"Everybody from all aspects is making sacrifices for the grind" -Channing Crowder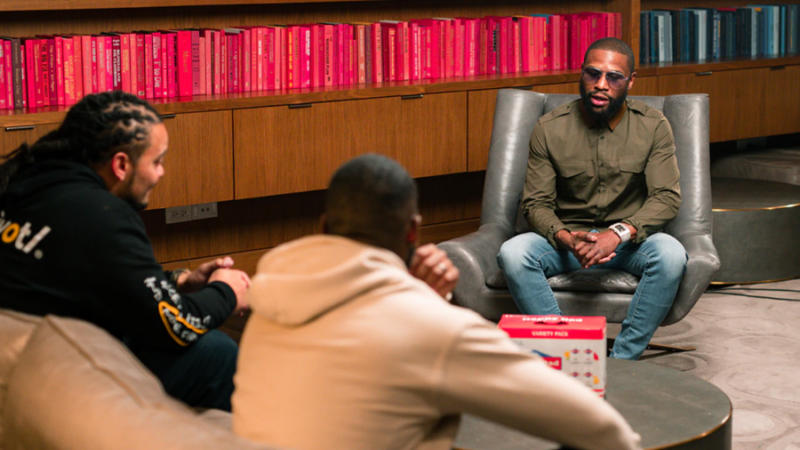 Ryan Shepard: As the show has grown, you've had the opportunity to bring a number of different people on the show. You've sat down with everyone from Shaquille O'Neal to Caitlyn Jenner. How do you determine who you are going to interview? Is there a vote? Does a conversation take place? How does that all work?
FT: Shoot, we're going to interview you in a second. There are a combination of things that help us decide who we're going to interview. Again, Ryan [Clark] mentioned Alicia Zubikowski. She's pretty connected. When you're a good person, you can extend favors and vice versa. Then, you can take advantage of those [favors when the time comes]. Pretty much, everybody that we have had on the show has been us [booking them]. We don't have a booking agent. We're our own booking agent. A lot of it is just done on our own.
RC: Man, it happens by accident. Straight up. People may not know this, but our interviews with Warren Sapp, Dr. Amira Ogunleye and Michael Beasley were all filmed on the same night. We actually started that day in another state with Candace Parker. Fred also had interviews with two current football players lined up, but that fell through. So, he got on the horn and us three more interviews. From my point of view, I was disappointed at first because I felt like it would be huge to get those two players on the show. Going back to talking about expectations, that's what I expected, so I was disappointed at first. Then, we ended up getting Michael Beasley and I feel like that's the interview that transformed our show and transcended anything that we had ever done.
FT: One thing I'll say is that The Pivot gon' pivot. We're pivoting right now. We're always trying to make things happen and we're always looking for an opportunity. If you give us a lane, we're always going to take advantage of it. I just wanted to add that.
RC: Also, I wanted to add this too because I know Channing is going to talk. The conversations we have with each other are real conversations. If some of our guests could hear the conversations we have about them as we decided whether or not it works or how it will work, they probably wouldn't want to come on if we recorded those.
FT: We never know [which guests will work on the show].
RC: We'll be like, "Hey, is this going to be good? What's the angle? Channing, you know you can't say this to that person or we might get canceled."
CC: That's the thing. We enjoy doing this. We hang out. We bullsh*t. It's just gotten to the point where we can sit down with just about anybody in the world and have a good conversation with them. You just look on your phone, do a little bit of research and write down a few things. Then, you can ride out and have good conversations with people. That's what it's about. Nowadays, everybody sits on their phone and wants to text, tweet and all of this sh*t, but I think the art of conversation is something that's being lost. So, I think people enjoy seeing it on our show.
RS: I want to go back to something Ryan Clark said during his answer about finding a time that fits everyone's schedule. Recently, I was watching an episode of The Porter Way. It's a weekly podcast hosted by former welterweight champion Shawn Porter, Sean Zittel of Fight Hype and his two friends, Carson Merk and Anthony Brenagh. During one of the recent episodes, Brenagh joked that Shawn Porter is busier as a retired fighter with all that he's doing now than he was as an active fighter. In our second career, are you all busier now than when you were playing?
FT: I tell people all that time that he doesn't sleep.
CC: This [expletive] right here doesn't sleep.
FT: No, he doesn't sleep. So, I guess we'll speak for him. Sometimes people will ask me what retired life is like. Well, if this is what retired life is like then I'll never be retired. For the most part, I'll just call it a career. But RC is like "Hey Mon" on In Living Color. Do you know that show? He has 20 jobs. This is the truth. RC has about 20 jobs and he's pretty efficient at all of them. They're in the same lane for the most part, but he does a ton. I also know that Channing has a ton going on. Personally, I don't have the structured, go-in-the-building type of job that these guys have, but I certainly have a lot of sh*t going on as well.
RC: Man, listen.
CC: When's the last time you slept? Last week?
RC: I think I'm busier [post-NFL career], but it's also more rewarding. We don't work for anybody. This isn't work. I think that has been a big adjustment too. When I was playing, I had the same routine. I knew what I was doing each day. I would go train, work at ESPN and take care of my family. Now, every week we're texting each other to figure out what day we're filming. We have to figure out days we're free and then we have to give that answer over to the guests. Knowing that this was coming up, we were hitting people up and asking if they were free on Thursday. That's legitimately how the show works sometimes.
CC: It's the grind of it. I just wanted to say this quickly. We all understood and our families understood. We've all got kids and wives. All of them understand that we're grinding to build something special. There are sacrifices being made from all angles. I've got a two-year-old and my wife has to do everything when I'm not there. She has to take them to baseball, and tennis and do all of that, but she understands that we're grinding to build something special. Everybody from all aspects is making sacrifices for the grind.
RS: As the show has grown, a lot of clips from it have gone viral. Given that you all have been in the public spotlight throughout your playing days, it's not necessarily new for y'all. With that said, these are one to two-minute clips being taken from a two-hour show. Does it ever bother you when a clip from a show goes viral without context?
CC: No, not really.
RC: That's obviously a question that he wrote for you.
CC: What do they say? All publicity is good publicity. If you dislike what someone says or you like what someone says, you're still talking about it. You're still sending it to your friends. You're still picking up the algorithm of that clip and we know what the world is like. We make our own clips. Alicia! We keep bringing up Alicia. She's our producer. They cut the clips. If you have a 90-minute conversation and you're trying to funnel someone to that conversation, they don't want to watch four minutes. We want them to see a 30-second clip and say, "Oh man, I want to watch the rest of that conversation."
I'm old school country. If that clip can funnel someone to watch the full show, they'll fall in love with the show. They'll fall in love with the structure of the show, our questions, our guests or our personalities. So, the 30-second clip is a commercial to get people to download or subscribe to the podcast. I love it. I really embrace people hating me.
FT: I'm usually the one that will go through the comments. Even though I don't read all of the comments, there are a few that stand out. To answer your question, I just want people to go and watch the whole thing. Don't let this one clip be the thing that runs you away or makes you gravitate to it. It's easier when a clip makes someone gravitate to the show. When it's on the flip side, I'm like, "Come on. Just go watch the show. Sit back and relax. Then, come back and let us know what you think afterward." That's really what I would like to tell everybody that looks at it and thinks of a clip in a negative light, but I can't win every battle. Instead, I just back and see what they have to say after watching the show. Actually, a lot of times they'll say that it is a great show and that's what's most gratifying for me.
RS: We're running out of time, but I didn't want to leave without asking this question. You're five months into this show, where do you want it to be at the end of your first year?
FT: I would like it to be trending as well as it is now. That's all I want. Growth. We're still growing.
CC: I'd probably say the same thing. That's probably the athlete in us speaking. I can't think about the second quarter in the first quarter. I worry about the now and the grind. It's funny because I say that and these guys start rolling their eyes, but what's supposed to happen will happen. You can call it faith, fate or whatever, but whatever is lined up to happen is going to happen if you put yourself around good people. You just work around those good people and let the end result be whatever it's going to be. If you're running a 5K and you start thinking about the finish line while you're only 100 yards into the race, you're going to cramp up and die.
FT: That is so Channing.
RC: I agree with Channing in his focus. My football career is very different from both of them because I was not drafted. As a result, I lived very much in the moment as Channing said. When I got to camp, I just wanted to make the team. I wanted to play on special teams. Then, I made it to my second year and I wanted to actually play on defense. During my third year, I wanted to be a starter. After I became a starter, I wanted to make it to my second contract. I wanted to accomplish all of these things, but you've got to start from wherever you are. Right? In year one, I couldn't have thought that I would play 13 years, make it to the Pro Bowl and be a Super Bowl champion. I couldn't think like that.  So, my hope is that when we get to that one-year anniversary we're all sitting in a place where we can say, "Okay, now it's time to make the Pro Bowl or chase whatever the next goal is." Four years from now, we can sit down and say, "Let's go get that gold jacket." I think that's the goal. We want to put together great content and be a great show.
Note: James Patterson and Gerald Mallison contributed to this interview.