2. Michael Jordan, 1997
Some might find it odd that Jordan's 1997 season, which ended with him winning a championship at 34 years old, makes it so high on the list above one of his seasons before his first retirement. While Jordan from a talent perspective was superior pre-retirement, with more athleticism and a better 3 point shot, Jordan in the second three-peat had to carry the Bulls to a much higher degree.
The 1996 Bulls are commonly known for having the regular season wins record before the Warriors dethroned them in 2016. Due to this, people like to assume that Jordan had a phenomenal team around him. There is some truth to this, with him having arguably
the best defensive help in the league with Pippen and the addition of Rodman from the Spurs. However, the 1996 Bulls became the only championship team since 1964 to have the second and third highest scorers in the playoffs shoot below 40 percent from the field . Jordan was not only the leading scorer for the Bulls by over 10 ppg, he also was the most efficient volume scorer on the team, with Pippen and Kukoc both shooting sub-49 true shooting for the playoffs (Jordan: 56% TS)
In 1997, however, Jordan was carrying the Bulls even more than he was in 1996. In the regular season, the Bulls won a staggering 69 games (T-3rd highest total of all time) with Rodman, Kukoc, and Longley all missing 20+ games for various reasons. Jordan was arguably robbed of the MVP award by Karl Malone, who's Jazz won 5 less games with an entirely healthy roster. Jordan meanwhile was on his way to winning his ninth scoring title, averaging 30-6-4-2 on 57% TS for the regular season.
In the playoffs is when Jordan really had to start putting the team on his proverbial back. Many people don't know, but the Bulls' big acquisition in the 1995 offseason, Dennis Rodman, wasn't as effective as he normally was in the 1997 playoffs. Rodman was racking up technical fouls and ejections the entire postseason, causing him to start 14 of the 19 playoff games the Bulls played, only playing an average of 28.2 mpg. Rodman also averaged a very uncharacteristic 8.4 rebounds per game, a number that would be more believable for the Worm's standards with a 1 before it.
In the first round, the Bulls played the Washington Bullets with a young Chris Webber, Juwan Howard, and Rod Strickland, an underrated point guard who would go on to lead the league in assists in the 1998 season. The Bullets weren't great under their first two coaches, Jim Lynam and Bob Staak, who they went a combined 22-25 under. However, once signing coach Bernie Bickerstaff, the Bullets went 22-13 for the remainder of the season, which is a 52 win pace, so they were a better team than their 44-38 record would suggest.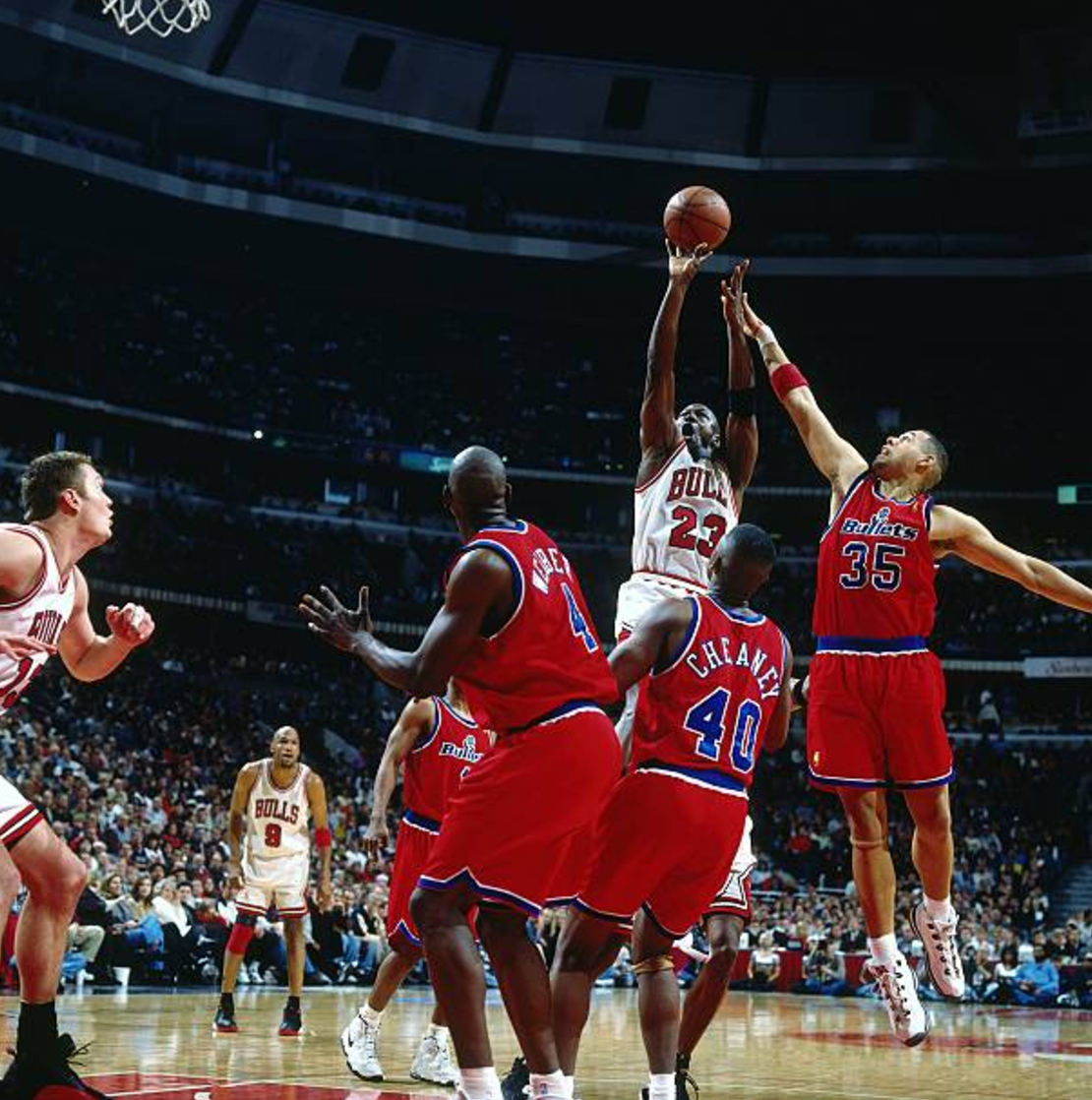 Of course, Jordan went on to torch the Bullets, dropping a ridiculous 37-6-5 on 62% TS for the series. The next three leading scorers for the Bulls (Pippen, Kukoc, Harper) scored a total of 99 points on 48.8% TS for the series combined. Jordan had a total of 112 points on 61.8% TS. The Bulls' supporting cast did not provide any substantial offensive help for Jordan. Jordan also led the Bulls in assists, and played great defense on Rod Strickland, for the portions of the series they matched up. Jordan had to carry the Bulls on both ends to a historically high degree against a very solid team.
In the second round, the Bulls faced an underrated Hawks team, with a top 3 defense in the league thanks to prime Dikembe Mutumbo and Mookie Blaylock, one of the best defensive PGs of all time. They also boasted Steve Smith, a SG who would go on to make the all star game in 1998, along with Christian Laettner, in the one season he made an all star game.
Jordan's dominance in this series is a bit understated by the stat sheet, with 26-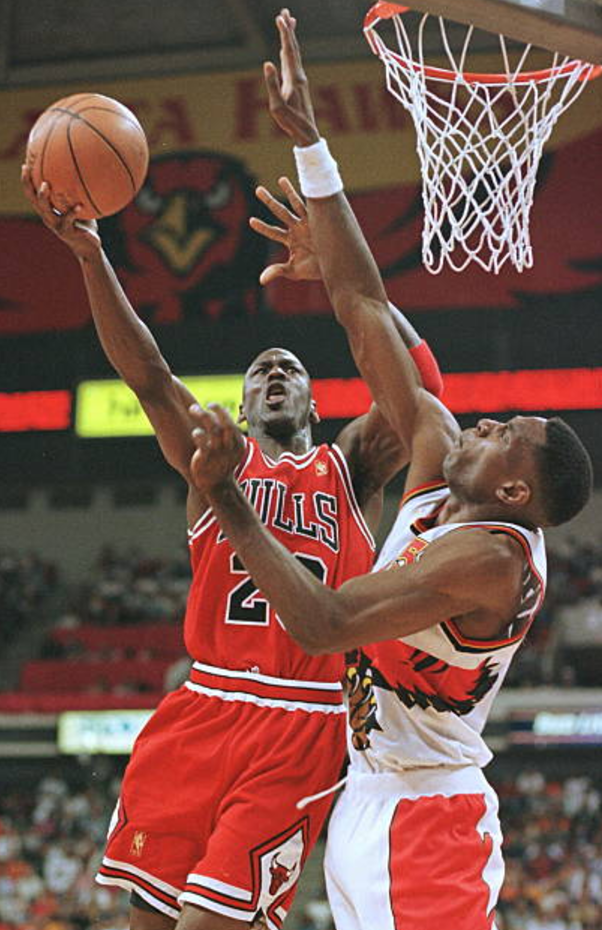 10-5-2-1 on 51% TS for the series. Of course, these are great numbers, but not those that would be indicative of a series played by Michael Jordan. In this series, Dennis Rodman would get ejected 3 times, only averaging 5 rpg for the series. Jordan, however, picked up the rebounding load, averaging 10 per game and only grabbing 8 less rebounds than Mutumbo, the regular season rebounding champion. He also absolutely locked down on Steve Smith, who went from averaging 20 ppg on 43% FG in the regular season and 20 ppg on 48% FG in the first round to a much worse 18 ppg on 32% FG against the Bulls. Jordan was also just 2 assists shy of leading the Bulls in all five major categories for the series. Again, MJ carried the Bulls in pretty much every aspect of the game, leading to a five game dismantling of a team that won 56 games. Like seemingly every time in his career, Jordan's numbers directly correlated to his team's success.
In the ECF, the Bulls played a fantastic Miami Heat team, lead by Alonzo Mourning and Tim Hardaway. Moruning missed 16 games in the regular season, so even their fantastic 61-21 record is a bit deflated. Even with Mourning missing significant time, the Heat still finished with the top defense in the league with a DRtg of 100.6. Jordan's efficiency is a red flag when glancing at his stats, with just a 47.5% TS, however there are several things to consider before considering Jordan's series as anything less than incredible. This was a tough defensive series, with neither team shooting even 50% TS for the series, and Jordan had to carry the scoring load, so his efficiency should be lower than the teams' averages, but it wasn't by a significant margin.
Another reason why Jordan's efficiency wasn't a huge deal was because it was incredibly deflated in game 4, where he shot 9/35 from the field. Considering it was a 5 game series, with game 4 being the Heat's only victory, it's no surprise that one game had a huge impact on his series stats. Outside of game 4, a game that wasn't a huge deal to begin with (no team has ever come back from a 3-0 deficit in any series), Jordan shot 55.5% TS. This efficiency was great considering the type of series it was. Jordan averaged 30-8-3-2-1 for the series, numbers that are even more impressive when considering the series was played at a sluggish pace of 84 possessions per 48 minutes.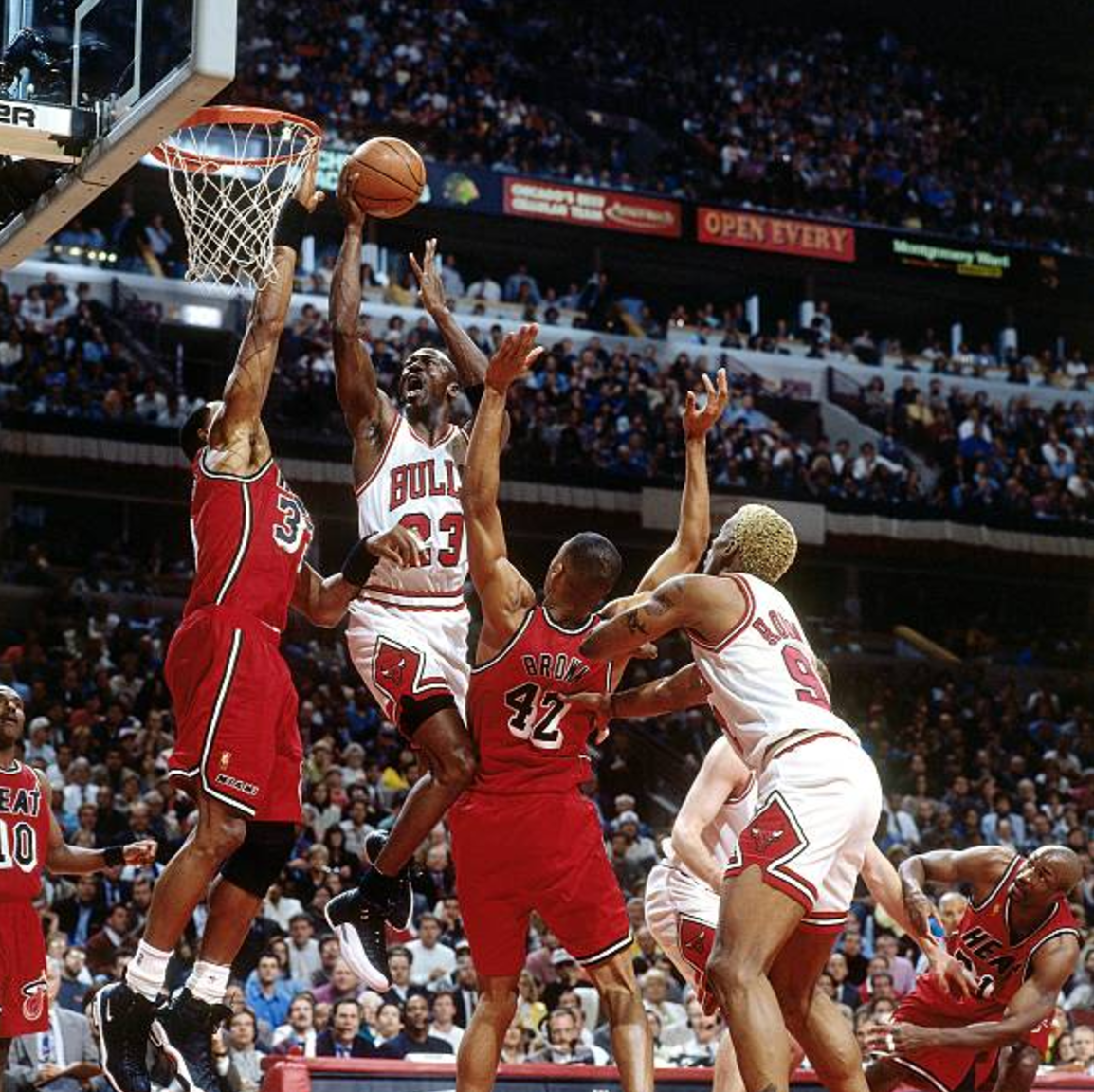 Jordan's defense was again great, this time not so much with his man to man (he saw time on several of the Heat's perimeter players, not locking down one for an extended period) play, but his help defense was phenomenal. Jordan did have Rodman back in full force for this series, but he still made his contributions on the boards, battling with Mourning and grabbing 40 rebounds to Mourning's 47.
In the Finals, the Bulls faced the Jazz at the apex of the Malone/Stockton era. Malone finished as the regular season MVP, an achievement that sparked a lot of controversy in the NBA community, as many thought that Jordan was robbed. He did have a great case for the award, but Malone still had a great season, leading the Jazz to 64 wins. Of course, this didn't matter to the man who many consider to be the greatest competitor in the history of sport.
The Jazz had a great playoff run up to the Finals. After disposing of an average Clippers team in the first round, the Jazz defeated a prime Shaquille O'Neal's Lakers in the second round. The Lakers went 56-26 this season, even with Shaq missing 31 games. In games Shaq did play, the Lakers went 38-13, a 61 win pace. Kobe was on this team, but he was coming off the bench in favor of a pair of all star guards, Nick Van Excel and Eddie Jones, so this was a very solid team. Malone individually outplayed Shaq in this series, with 29-13 on 50% TS to Shaq's 22-12 on 52% TS, and the Jazz won in five games.
Malone through 3 rounds averaged 27-12-3 on 51% TS, against great big man competition in Shaq and Hakeem Olajuwon, as the Jazz played the Rockets in the WCF. Stockton's averages through three rounds don't look very impressive, but he wasn't being used as much against the poor Clippers team and against a great Laker backcourt. In the conference Finals, he got a higher usage role and had a fantastic series against Houston, averaging 21 ppg and 10 apg on 65% TS, including the series clinching shot in game 6.
Going up against the Bulls, however, was going to be much more difficult, as they had elite interior (Rodman) and perimeter (Harper, Jordan, Pippen) defenders, boasting the second best DRtg in the playoffs. Jordan wouldn't guard Stockton primarily too often, as Ron Harper and Steve Kerr covered him mostly in man to man situations. However, this allowed Jordan to play some great off ball and help defense just as he did in the conference finals.
Jordan's numbers for the series look great, with 32-7-6 on 53% TS, however, it is even more impressive when put into context. Jordan's Bulls only averaged 87.8 ppg as a team, meaning Jordan had to carry an even bigger offensive load than he did in the previous rounds, against their toughest opponent yet. Jordan would go on to directly contribute 50.5% of all of Chicago's points, be it from scoring or assists, assuming all assists are two points. This was his third time directly contributing more than half of his team's points in a Finals, a mind blowing feat when considering that only one other player has done this once, LeBron James in 2015. However, LeBron's defense was not nearly as good as Jordan's in their respective Finals', and Jordan was also much more efficient. LeBron did score/assist on more than 50% of the Cavaliers' points in the 2016 and 2017 Finals, but this is taking into account 3 pointers, something that was not tracked back in 1997. Under the same criteria, Jordan has done this three times, LeBron once, and everyone else zero.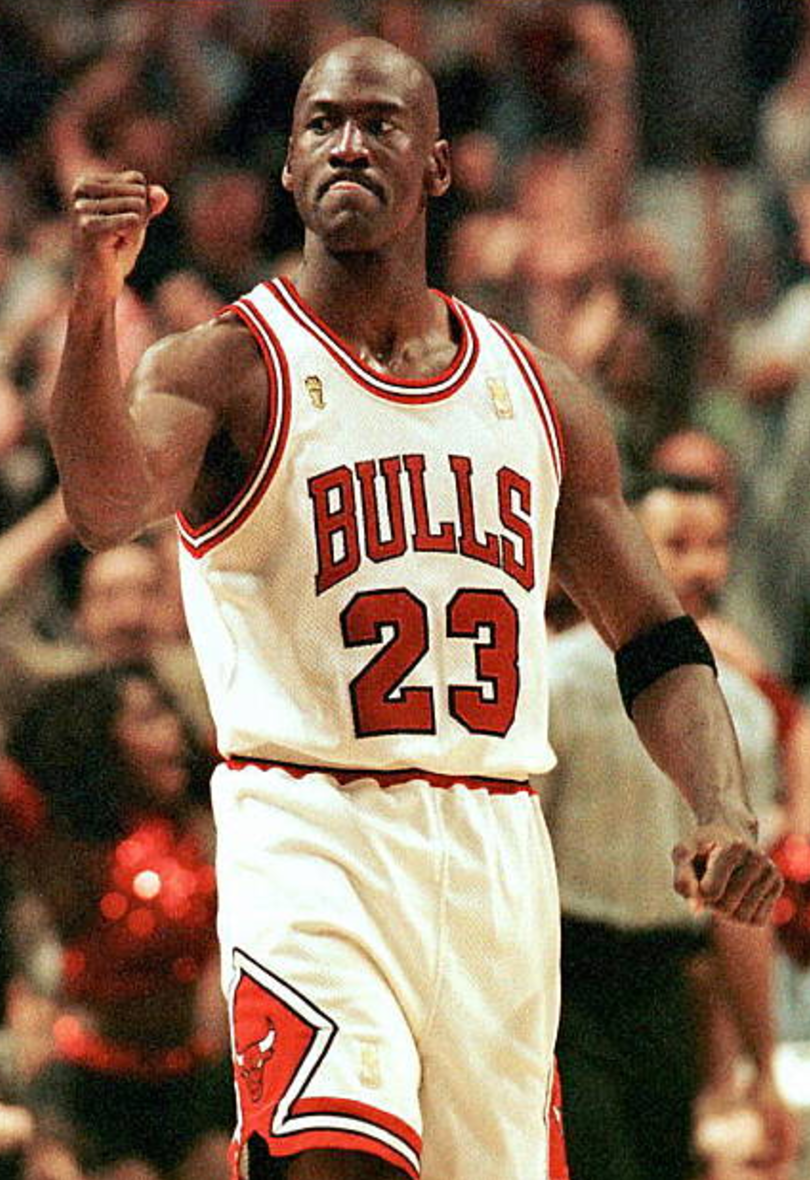 If that wasn't enough to show the offensive load he had to carry, one has to look no further than Scottie Pippen. Pippen's box score stats look good, with 20-9-4 on 54% TS, however these stats came mostly in losses, not in the wins where Jordan carried them to victory. The only win Pippen played well in was game 1, where Jordan still had 31-4-8 including the game winning buzzer beater at the end of regulation. In the next three Bulls wins, Pippen averaged a very poor 16.7 ppg – 8.3 rpg – 3.6 apg on 43.8% TS, wheras Jordan had an incredible 38.3 ppg – 10.3 ppg – 6 apg on 57% TS in those games. Including the game 1 where Pippen played well, Pippen had more turnovers than assists and the same amount of fouls.
Of course, the 1997 Finals also gave basketball fans one of the most iconic moments in the history of the sport, the Flu game. With the series tied at two game a piece and game 5 in Salt Lake City, when it was announced by Marv Albert that Jordan was suffering from "flu like symptoms," many people thought it was a foregone conclusion that the Jazz would take game 5. However, as we now know, Jordan never allowed a Finals to get to a seventh game, so taking a third loss in a row just wasn't even in the question. Jordan, despite obvious physical and mental fatigue, dropped 38-7-5 and the go ahead three pointer with 25 seconds left, which after he famously fell into Scottie Pippen's arms, completely exhausted.
He hit two game winners, he played defense, and he carried the Bulls in all aspects against a great team. Jordan's 1997 Finals is one of the most underrated of his career and perhaps of all time. However, the load Jordan had to carry throughout the playoffs is truly remarkable.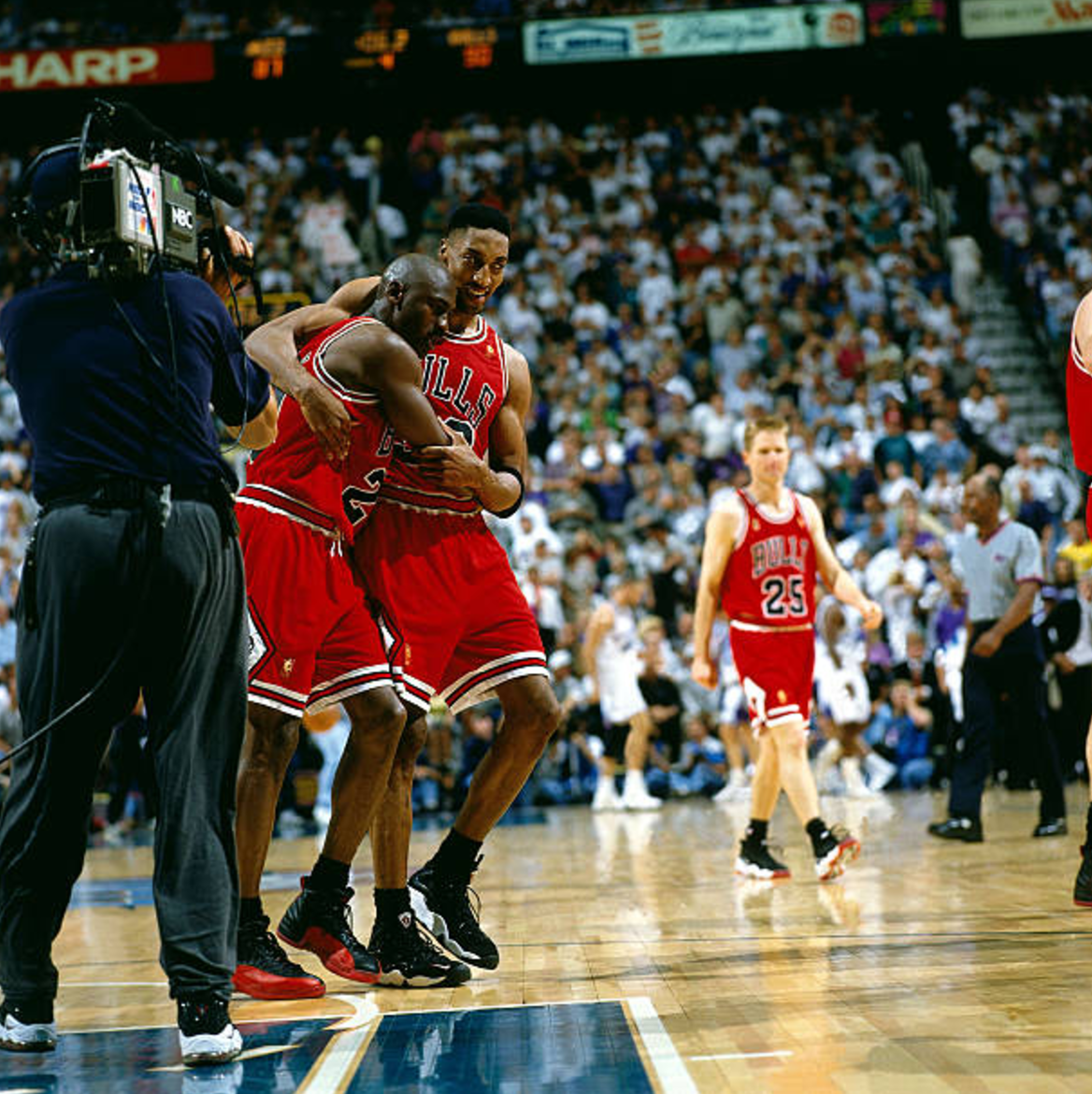 The 1997 Bulls became the only team in the shot clock era to only have two double digit scorers going by points per game. Jordan's second option, Scottie Pippen, averaged 19 ppg on 52.6% TS, a pretty low mark for the volume of scoring he was doing, scoring under the average efficiency mark of the 1997 playoffs, which was 53.5% TS. Jordan actually was slightly less efficient, scoring at 52.4% TS, but he more than made up for it with a huge increase in volume for the only slightly lower efficiency.
Jordan also made up for it by doing something that only a select few have done. Jordan led the Bulls in all 5 major statistical categories for the final three rounds. Considering the insane offensive load he had to carry in the first round (outscoring his next three teammates combined), it truly shows what an all around job Jordan did in carrying the Bulls in all aspects. Only two other players can say they've accomplished this feat, LeBron James, who did it in the 2016 playoffs, but against far inferior competition, and the number one selection on the list.
Another point that should be recognized about Jordan's run was the phenomenal competition he played. As previously stated in this piece, only six teams have ever defeated two 60+ win teams in a championship run, with the 1997 Bulls being one of them. The 1997 Bulls also became one of two teams to face 3 56+ win teams in a championship run, along with the aforementioned 1995 Rockets. For carrying his Bulls in every aspect against elite competition in the postseason, and having a phenomenal regular season, Jordan's 1997 campaign checks in as the second greatest individual season of all time.
1. Hakeem Olajuwon, 1994
We have finally arrived at the greatest peak the NBA has ever seen, and the greatest individual season of all time. Hakeem Olajuwon came into the league as an NBA unicorn. An athletic and talented center who could shoot from mid range, give you every post move in the book, and play elite defense was something rarely seen in the NBA. Over time, he began to develop his playmaking ability out of the post as well, which is when he became arguably the most well rounded player in NBA history.
Hakeem's 1994 regular season was one of the best of all time. For a player to win an MVP award in the stacked 90's, a season had to be downright incredible, and this year was certainly no exception to that rule. Hakeem posted an incredible individual stat line of 27-12-4-2-4 on 57% TS while leading the Rockets to a 58-24 record in one of the best conferences ever. He did this while also winning DPOY, something only one other player has done in the same season (Michael Jordan in 1988).
What makes Hakeem's season so impressive was his versatility. He had his best season in terms of assists, his second best in terms of scoring and averaged a staggering 3.7 blocks a night, which, believe it or not, ranks fifth of all of Hakeem's seasons. He was at his defensive peak, anchoring a good-not-great defensive supporting cast to the second best defense in the league. He also became more methodical with his play, not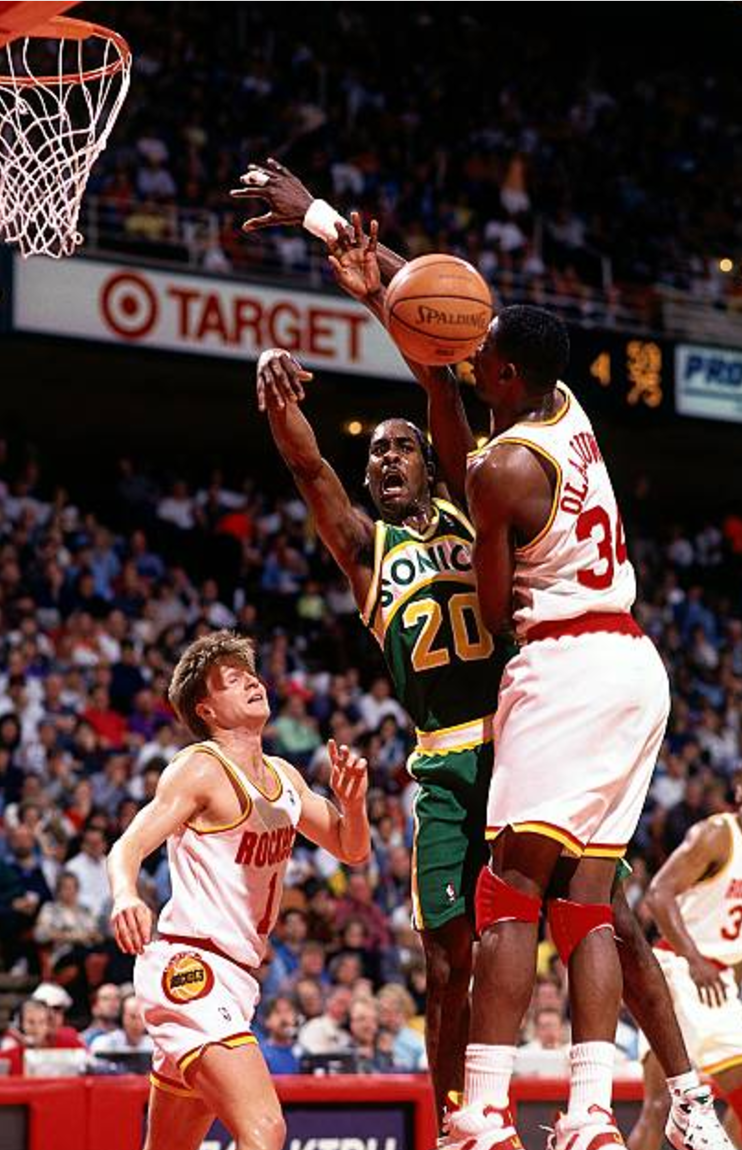 deliberately trying to score every time he posted up, but looking for his teammates more, which ultimately evolved into a great inside-out offense.
Hakeem's regular season was great, but his postseason was downright legendary. Hakeem was always one of the best postseason performers of his era, but due to injuries to teammates, himself, and overall a lack of adequate help to compete in an era where contenders had multiple stars. That all changed in the 1994 playoffs, where Hakeem would drag the Rockets all the way to the championship.
To quantify how remarkable Hakeem's run was, one thing must be set straight: Hakeem arguably had the best defensive peak of any player not named Bill Russell. His rim protection, his help defense, his pick and roll defense, and his man to man coverage were all nothing short of sublime. He would have to use every tool in his seemingly never-ending arsenal to bring Houston its first NBA title.
In the first round, the Rocket's played against Clyde Drexler's Trail Blazers who had made the Finals two years prior. This team had most of the 1992 Finals team intact, with the only major change being Strickland's move to starting point guard over Terry Porter. Hakeem would go on to absolutely light them up, completing the gentlemen's sweep of the Blazers to the tune of 34-11-5-2-4 on 56% TS. In game 2, Hakeem had one of the best games of his career, dropping a ridiculous 46-8-4-4-6 on 16/30 FG, achieving a 4×5 (at least 4 points/rebounds/assists/steals/blocks), an incredibly rare accomplishment. Nobody has ever had a playoff 5×5 before, and only 19 times has a player ever registered a playoff 4×5.
In the second round, the Rockets played the 56-26 defending champion Phoenix Suns. This team was arguably better than the 1993 team that reached the Finals, with a deflated record due to several key pieces – Kevin Johnson, Cedric Cebellos, and Charles Barkley – all missing 15+ games. Kevin Johnson was also fully healthy for this playoff run, and was performing at an all time great level, averaging a staggering 27 ppg and 10 apg on 54% TS in the playoffs. Barkley was still his dominant self, as he dropped a monster 37-13-6 on 61% FG/65% TS.
It comes as no surprise that Barkley's production and efficiency slipped greatly when facing the Rockets. Though he was primarily guarded by Otis Thorpe for a majority of the series, Hakeem still limited him when a switch was forced. Furthermore, Hakeem's legendary rim protection, help and transition defense all contributed to Barkley's decrease in production. Barkley would average 23.4 ppg and 12.9 rpg on 45.7% FG, while Hakeem would outrebound, outscore, play better defense, shoot more efficiently,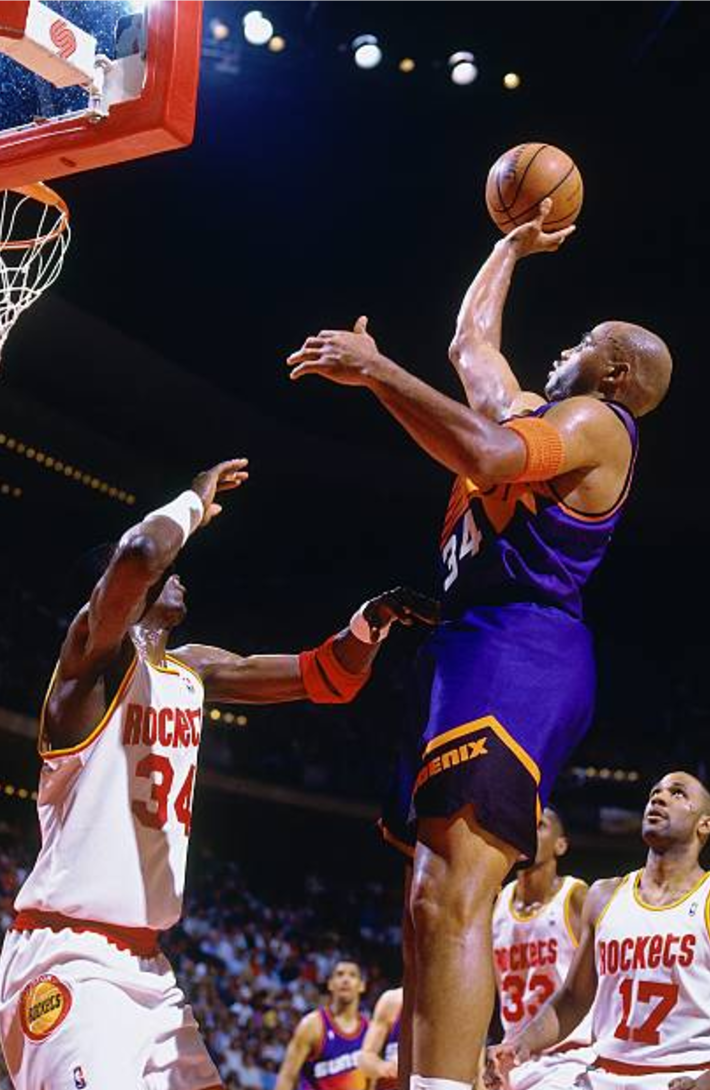 have more assists and blocks for the series.
Hakeem capped off an unbelievable series on both ends with one of the best game 7 performances of all time, recording 37-17-5 with 3 blocks on 18/33 FG. Hakeem for the series would average 29-14-5-1-4 on 58% TS.
Hakeem's numbers, while incredibly impressive, don't even fully describe his impact. Defensively, he seemed to have had an effect on nearly every shot from the opposition, and his rebounding was key to their defense as well. On the offensive end, the offense ran through Hakeem, eventually evolving into a heavy (for the time) 3 point shooting offense. The ball was often dumped into Hakeem on the left block, where he would post up, either drawing a double team, a triple team or heavy help defense. Sometimes he would score even with the defense collapsing on him, but more often than not he was whipping the ball back out to the perimeter or to a cutter to generate better looks. It was the perfect blend of playmaking and aggressive scoring, which resulted in a series victory for the Rockets.
I briefly discussed how underrated Kevin Johnson in his prime was, and how dominant Barkley was as well, creating a deadly PG/PF combination. In the WCF, the Rockets would go against the Jazz with arguably the best point guard/power forward combo the game has ever seen. With John Stockton and Karl Malone both at their peaks, it would be a tough task going up against the Jazz with an undermanned Rockets roster. However Hakeem was up to the task, would go on to have one of the best series' of his career.
Hakeem for the series posted another otherworldly stat line of 28-10-4-3-5 on 57% TS. Once again, his presence was key for the Rockets to create offense due to his playmaking out of the low post, and his defense was quite possibly even better than it was in either of the first two rounds. He guarded Karl Malone for intervals of the series, doing a phenomenal job on him, causing him to shoot a lower percentage, and turn the ball over. However, even when considering Malone's below average 43% FG, it still doesn't do Hakeem's defense justice, as there were many instances he wasn't even able to get a shot up because of Hakeem.
Now Hakeem may have had an incredibly rare feat in registering a 4×5 in the first round, but he blew that achievement away in the Western Conference Finals. Hakeem had two 4×5's in the last three games of the series. To put into perspective just how impressive that was, only one other player in NBA history has two 4×5's in his entire postseason career, Ben Wallace. Even then, Wallace didn't top 10 points in either of his 4×5's while Hakeem posted 20+ in all of his 4×5's in the 1994 postseason. So Hakeem, in this series alone, would have tied the all time record for playoff 4×5's.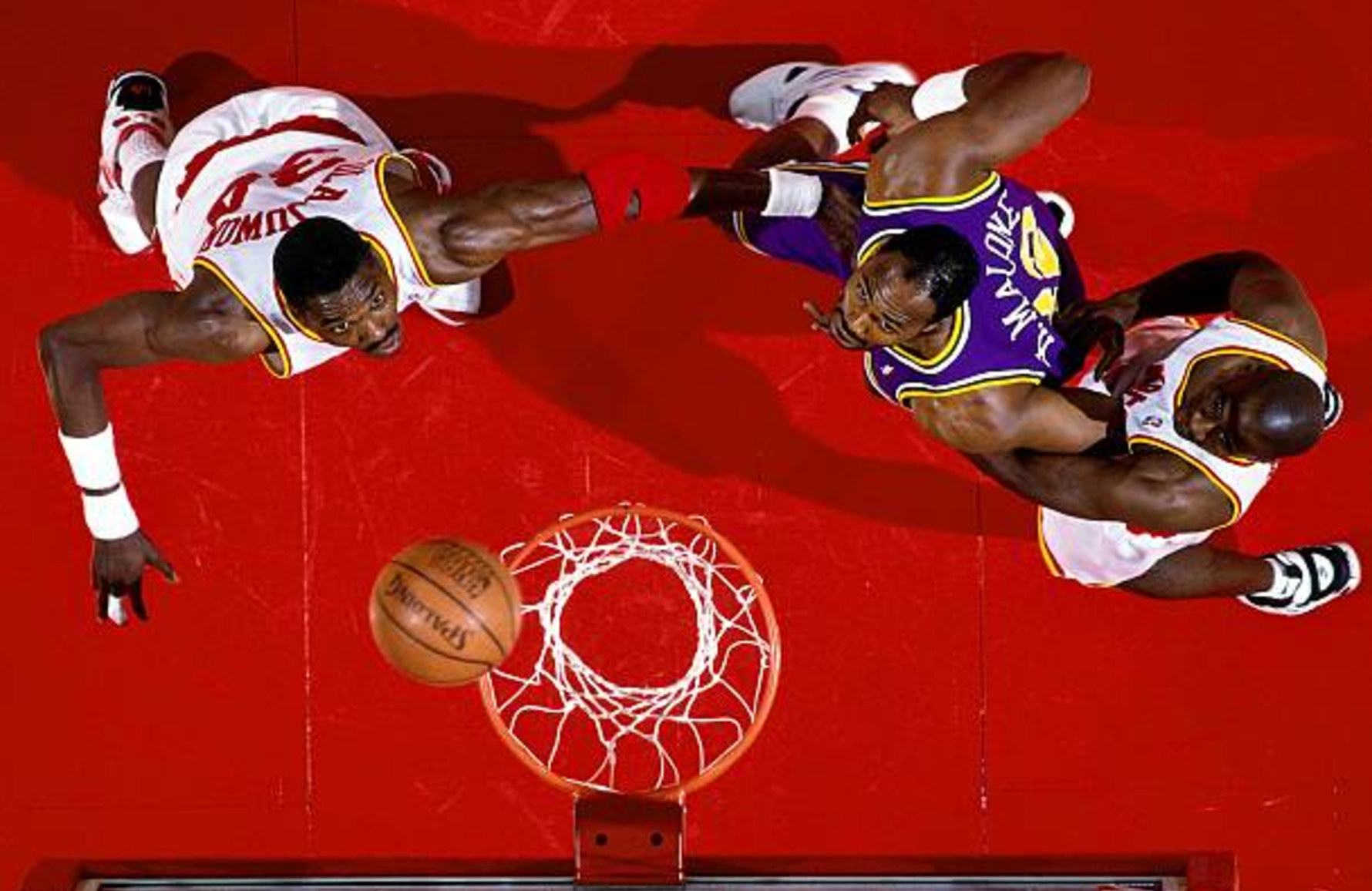 Furthermore, Hakeem's 2.6 spg is the highest steals average any big man (PF/C) in a playoff series in NBA History. These weren't Allen Iverson-esque steals either, gambles that caused rotations for the rest of the team when the steal didn't happen. They were steals that didn't put him or his teammates out of good defensive position, they helped his team more than anything. Hakeem also was one assist shy of leading the Rockets in every statistical category for the series.
In the Finals, the Rockets went up against the 57-25 Knicks with the number one ranked defense in the league. The Knicks' defense was at their peak, with their 98.2 DRtg being the best of any 90's team excluding the 1998/99 lockout season. It was going to be tough for the Rockets to score inside with one of the best defensive frontcourts of all time clogging up the paint, but Hakeem proved in these playoffs that regardless of circumstances he was going to perform.
Perform he did, leading the Rockets to a championship over the 7 game series, while having quite possibly the best defensive performance of all time on an all time great caliber player, locking up Patrick Ewing. Ewing went from posting 25-11 on 50% FG in the regular season to having a severe dropoff to 19-12 on a dreadful 36% FG. The only good offensive game Ewing had all series was in game 5, when he had 25-12 on 52% shooting. Other than that Hakeem held him hostage on the defensive end, which was key in the series as each game was decided by single figures.
His rim protection was again fantastic, as the Knicks scored much less and less efficiently in the Finals compared to the regular season. The Knicks never scored more than 91 points over the 7 Finals games, averaging 86.9 ppg on 40.7% FG in the series, after averaging 98.5 ppg on 46% FG in the regular season and 89.5 ppg on 43.7% FG through the first 3 rounds.
Hakeem also had very little help in this series, just like he did the entire 1994 playoffs.
Maxwell: 13 ppg on 44% TS
Horry: 10 ppg on 43% TS
Cassell: 10 ppg on 62% TS
Hakeem's teammates shot a combined 39.7% from the field.
Not only did Hakeem's next second option have a a mediocre 13 ppg, both his second and third options shot below 45% TS, very poor efficiency. Compare this with LeBron's help in the 2007 Finals:
Gooden: 13 ppg on 54% TS
Gibson: 11 ppg on 52% TS
Pavlovic: 10 ppg on 42% TS
LeBron's teammates shot a combined 41.1% from the field.
Hakeem was going against a team that was just as good as the 2007 Spurs, playing much better defense and offense than LeBron with even less help. It just goes to show how huge of a load Hakeem had to carry throughout the series and the playoffs as a whole.
To truly show the load Hakeem had to carry and the historic way he won a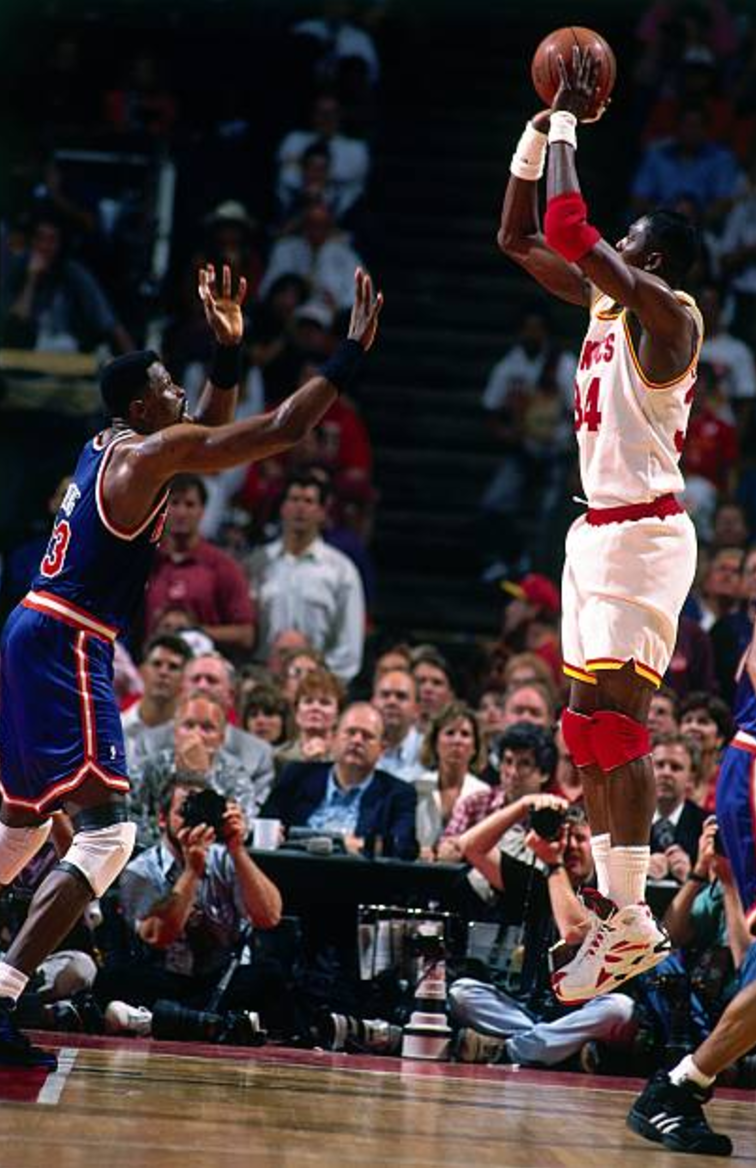 championship, consider this. Hakeem lead his team in the regular season in 4/5 categories every year from his sophomore season to the 1994/95 season, a total of 10 times. Only two other players have done this for 3+ full seasons, Kevin Garnett who did it seven times, and David Robinson who did it for six seasons. Between those two players, they won a combined five playoff series and made one WCF (Garnett in 2004) under these circumstances. Hakeem won four playoff series in 1994 alone.
Additionally, Hakeem became one of two players (LeBron in 2016) to lead a championship team in 5/5 major statistical categories for the entire playoffs. Hakeem however did play better competition in the conference playoffs compared to LeBron, and had less overall offensive help than LeBron who had a 25 ppg scorer in Kyrie Irving to shoulder the scoring load.
Hakeem also became the only player to win a championship without another HOF teammate/coach or teammate that made the all star team that year. Combine this with the fact that he lead the team in every category for the playoffs and was playing phenomenal defense against HOF bigs in nearly every round, it is the epitome of carrying a team.
This year, we saw what a perfect basketball player looked like. A defensive force in every way, rim protection, pick and roll defense, in transition, help defense and rebounding. His offense was also impeccable, with the perfect blend of scoring and playmaking. He was also scoring at a great clip (28.9 ppg, lead the entire playoffs in ppg), and he was efficient while doing so (56.8% TS compared to the 51.6% TS 1994 playoff average).
Some notable achievements Hakeem had in the 1993/94 season:
Only player to win MVP, FMVP and DPOY in the same season
One of two players to lead a championship team in 5/5 categories for the playoffs
Highest steals per game average ever in a playoff series for a PF/C (WCF)
Only player to win a championship with no HOF teammate/coach help or teammate who made the all star roster that season
More 4x5s in the playoff run than any other player has had in their entire playoff career
As many playoff 4x5s in the final 3 games of the WCF as any other player has had in their entire playoff career
5th lowest scoring supporting cast ever in a Finals for a championship team
First team to win the championship with the 2nd-4th options all shooting under 43% FG since 1961
Most bpg in a championship run
Second most spg for a big (PF/C) in a championship run
One of five big men (Duncan, Russell, Chamberlain, Walton) to lead a championship team in assists for the playoffs
One of two big men (Duncan, Hakeem is the only center) to lead a championship team in scoring and assists for the playoffs
Hakeem was the most complete peak player the game has ever seen, and in 1994, he put together the greatest individual season the NBA has ever seen.