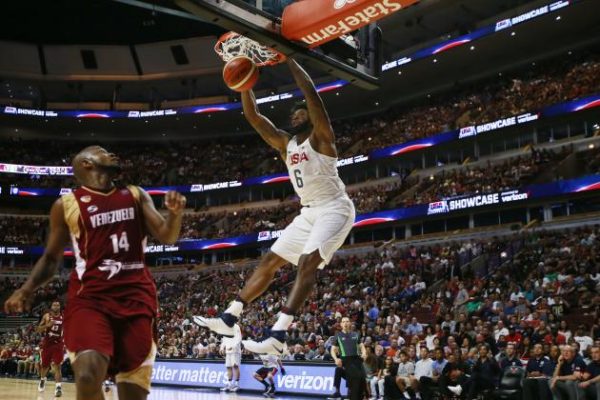 This is quite the landmark game. Not for Team USA they were bang average last night. It was a landmark game for the DefPen Sports family, especially for one of us. Big up Mr David Morrow who was at Chicago representing the family last night.
#USABMNT vs Venezuela started and we're ready to roll. pic.twitter.com/nOKK0qTPEM

— NBA On Def Pen (@NBAOnDefPen) July 30, 2016
It's just unfortunate that the game he covered wasn't exactly the best performance by Team USA. Just looking at the final score, 80-45 suggests that it was more like an NCAA blowout instead of a pre-Olympic tune up.
If you asked me to give a player of the game I honestly couldn't give you one. Individually all players weren't on point. Only Kyrie Irving and Klay Thompson were double digit in points and as a team they only mustered up 42.4% in field goal percentage. But of course it wouldn't be a Team USA game without an alley-oop.
Kyle Lowry with the touch pass to Jimmy Butler for the alley-oop. #USABMNT pic.twitter.com/unzQ9IYyHp

— NBA On Def Pen (@NBAOnDefPen) July 30, 2016
Nevertheless, the US won, they are 3-0 in pre-Olympic play and somehow they found a reason to dance after the game. I'm sure that coach Mike Krzyzewski really loved seeing that hours after a bang average game as a team days before they start their campaign in Rio Di Janiero. Be sure to follow @NBAOnDefPen & @DefPenSports for thorough coverage of Team USA's Olympic campaign. Hopefully they don't play like they did last night.