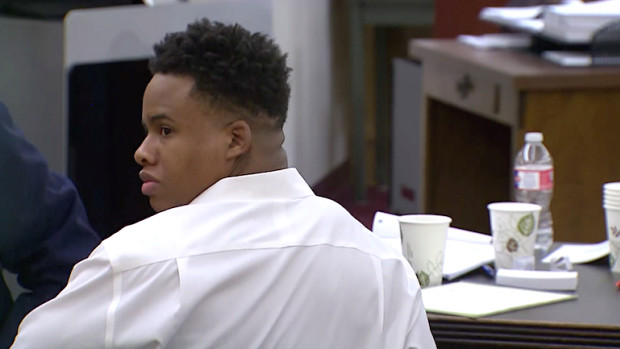 Rapper Tay-K sentenced to 55 years behind bars for his participation in a robbery leaving one dead.
The 19-year-old Texas artist received the lengthy sentence after being found guilty on multiple charges. The Fort Worth Star Telegram reports Tay K is not only to serve a 55-year sentence on murder but also, 30 years in prison on one count of aggravated robbery two additional 13-year prison sentences on two different counts of aggravated robbery.
Tay-K, legal name Taymor McIntyre, was also ordered to pay a $5,000 fine on one count of aggravated robbery and a $3,000 fine on the other two counts of aggravated robbery.
McIntyre's prison sentences will run concurrently and according to The Fort Worth Star Telegram, the jury deliberated for approximately three hours before making their decision.
The July 2016 robbery resulted in the death of 21-year-old Ethan Walker.  Walker's father shares his strong emotions toward Tay-K referencing hatred, claiming his platinum song The Race is covered in blood.
"I have tried to live a good life and I know hate is a very negative emotion but right now there are three people I hate," said Richard Walker, father of Ethan Walker.
"Every lyric to 'The Race' is stained with my son's blood. Every 'free Tay-K' T-shirt that was ever sold has my son's blood on it," he continues.
Tay-K recorded The Race while evading authorities after slipping his electric monitoring system.