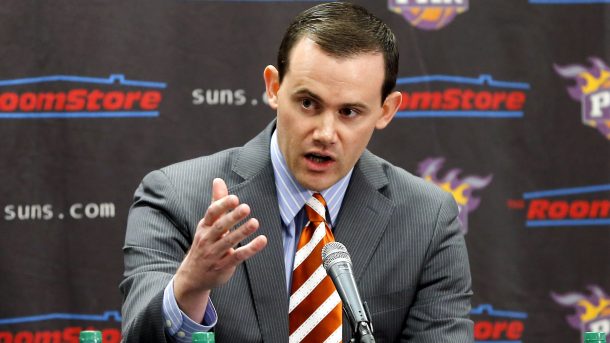 The Phoenix Suns have announced they are going to keep their General Manager, Ryan McDonough at least one more season, per Chris Haynes and Marc Stein of ESPN.
Over the course of the last seven seasons, the Phoenix Suns have seen themselves sitting at home come playoff time. McDonough came on as the GM in 2013-2014, and the Suns haven't seen any improvement since.
One reason McDonough is getting one more crack at the team is because of the youth he has helped draft. Over the past few years, the Suns have drafted Devin Booker, Dragan Bender, Marquese Chriss, Tyler Ulis, T.J. Warren, and they have the best odds to get the second overall pick in the upcoming draft.
While the Suns have solid, young talent, they haven't made the best free agency decisions. They owe Tyson Chandler, Brandon Knight, Jared Dudley, and Eric Bledson a lot of money over the next couple of years.
However, even with all that money locked up, Ryan McDonough said he wants the team to be players in free agency this summer. Notable free agents that could fit on the Suns would be Gordon Hayward, Serge Ibaka, and Paul Millsap.
With one season left on his contract, it wouldn't be a surprise to see Ryan McDonough try and pull some big players in free agency, or even try and make a big trade or two during the season. If he's trying to keep his job, McDonough will want to make a case for himself by showing he can turn the Suns into a winning team.