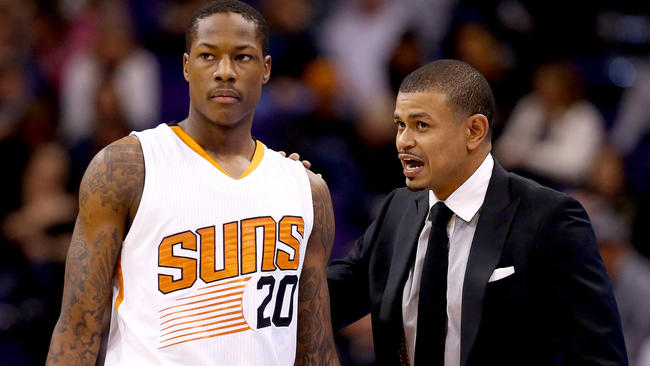 The Phoenix Suns are planning to keep Earl Watson and make him permanent head coach, league sources tell Jude Lacava of Fox 10 News. Lacava first broke the news via Twitter this afternoon.
Sources inside the Suns inform me that the interim tag will be removed and Earl Watson will be the next head coach of the Suns #nba

— Jude LaCava (@judefox10) April 19, 2016

Earl Watson had served the latter part of the season as interim head coach following the firing of former head coach Jeff Hornacek in February. After a serious of injuries, arguments, and firings (even assistants), Earl Watson guided the short-handed Suns to a 9-24 record until the season ended.
Watson, a 13-year NBA point guard drafted by the Seattle SuperSonics in 2001, served as an assistant coach with Phoenix up until Hornacek was fired. With management desperate to find an interim coach to finish out the season, Watson was called upon and impressed management to the point that they are now longer considering any other coaches for the position.
Several Suns' players have taken a liking in Earl Watson, with many publicly complimenting him throughout the season. Following from Paul Coro of azcentral.com:
"I think he's done an incredible job," Suns center Tyson Chandler said. "I try to stay out of the way of management decisions, but he's done an incredible job with the team he inherited with all the injuries and everything else like that. He's done an excellent job coming in and helping the young players, as well as helping guys like myself get adapted here. He's added structure. Everything he has done has been positive. He came in and took over this team in a tough position. I thought he has done an excellent job. Nobody could've asked for anything better."
To the delight of many, the Suns will finally remove the "interim" tag from Watson's title, making this the first official head coaching job of his coaching career. An official announcement is likely to come in the near future.
After one of the most disappointing seasons in franchise history, the Phoenix Suns are now desperate to turn things around. Hiring a new head coach was its main initiative. Now, they must shift their focus towards free agency in hopes of luring the right players into the brand, especially after last summer's swing and miss on All-Star forward LaMarcus Aldridge.