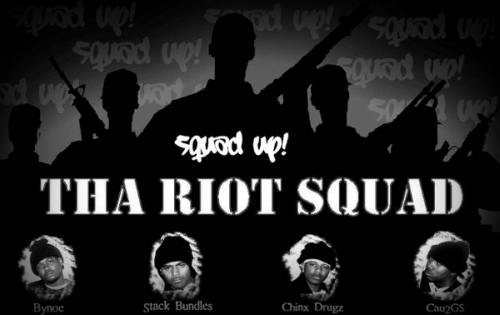 For today's #Stacktober tracks, we have a Riot Squad freestyle over Dipset's "Crunk Muzik" and a Stack & Bynoe freestyle going back and forth over Cam's Cha-Ching.
Yo! bunch of drama queens Maybelline a touch em up and I'm a grown man today my birthday so don't make me wrinkle my button up if I lose my cuff links you gone pay for em, you just earned a urn wait! Let's us pray for em, I'm working on a felony and since he well rounded ima shoot him in the center like the Beverly, still heavily armed from hip to wrist, tell I'm spreading the gospel, nigga it's God's gift!!
Nigga Ca-Click-A-Clack, I got mines on all up in my space I aim and sign-on, welcome, keep your eyes on the prize, that's the skull chain, headshot, pigeons everywhere fucking bird brain, nigga Ca-Click-A-Clack, this my young boys, Beamers, Benzes, Porsches, I came through in dumb toys, I done employees half the youth that's why I'm riding round, black coupe, half the roof, Click-A-Clack, that's the voice of the robbers, ya my sons with guns, here's the voice of your father!