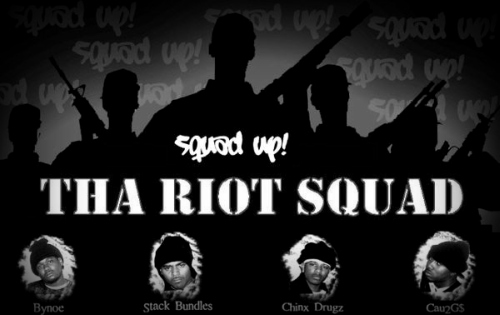 You know we couldn't go much longer without diving into the Riot Squad tracks. If there was anything about Stack Bundles you should know, it's that Tha Riot Squad ALWAYS came first, even bending dudes mic's came second to that. So today we bring you two Riot records off of Raps Makeover Vol 1. For the first record we have "Clap Mine" and secondly "Gun Em Down", one of my favorite verses from them all, especially Chinx and Stack. Bynoe got off on Clap Mine and Gun Em Down. Cau as well, they all got busy on these two records, check them out.
Yessiree nigga the Riot here with tons of the riot gear, who ready to eat with R-I-R-I-P-D-E-C-E-A-S-SED, front-line of the riot clap capisce? When I rather be getting my nails did, moving green and white like Celtics, some may say the kid well off, soft paid for the loft so much hard work can't get the hard smell off, so I'm a leave that to Bynoe, while I get the team rich like Lionel off vinyl, still won't hessi to clap mine, flat line, any nigga or any butch that get outta line, hollows or the coppers I'm popping outta that 9, I'm popping at the coppers you fuckers outta ya mind? No surrendering no retreat down here we too deep round here in these streets nigga I clap mine!
Fuck it, I'm flattered, ecstatic the static is well over due, the fuck you niggas want me to do? You could be another rapper dead and go down in the hoods history or you could just watch us win and add fuel to your misery, nah! You'll never be part of the mighty mighty Ri-iot, bath water running, here's a towel, niggas tee-ired, paid enough dues to be king! I could T.I it, whole team fit for the spot Gz get your Riot, fuck a label I promote myself, tired of being a boss I demote myself, I stoop down to your level, let you niggas run around & then we settle with metal nigga I gun em down, hunt em down, grip up, slip up, get hit up, I bet whatever on my team, I put the strip up! The name Seymorecake! Nigga I'm chipped up, sergeant with that PPHH, PPHH I get em nip tucked.