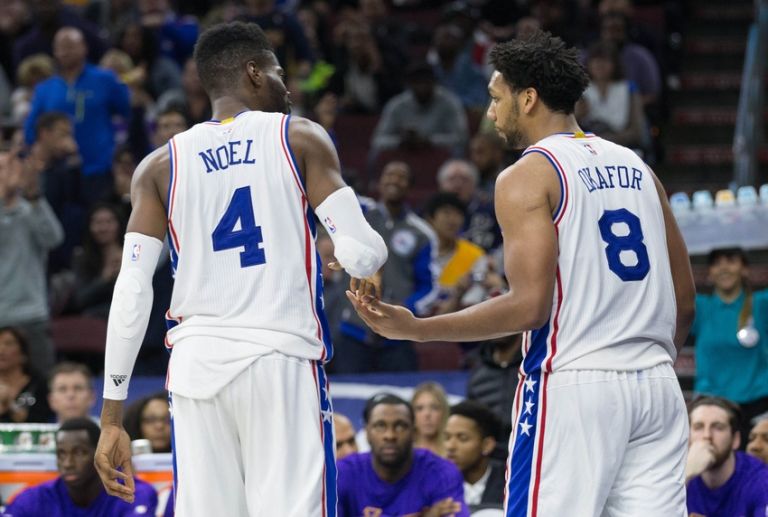 The Philadelphia 76ers have a bevy of young talent on their roster. Unfortunately, the majority of that talent is both unproven and concentrated at the big man positions. The Sixers received contributions from both Nerlens Noel an Jahlil Okafor last season and still have Dario Saric and Joel Embiid waiting to make their NBA debuts.
Saric is expected to make the move from playing overseas and Embiid seems to finally be healthy enough to play after rehabbing for the past two seasons. As such, Philadelphia will have a huge logjam at their power forward and center positions with at least four players deserving high minutes and developmental focus.
With this "problem," so to speak, it seems likely that the Sixers will eventually look to clear up the logjam, focusing on keeping the higher potential players who can fit together. That has been speculated for a long time, but there may be some details emerging.
According to ESPN's Chad Ford, there is a "high likelihood" that the Sixers will trade one of Noel or Okafor before the start of next season.
Following transcribed by CSN Philly:
I think that there's a very high likelihood, that whether it's to move up in the draft or use them to grab a free agent in a sign and trade or just to a trade, that you will not see the Nerlens Noel-Jahlil Okafor pairing at the start of next season. I think that they'll gauge the interest of both players. I think that there might be a slight preference for Noel, to keep him around with the Sixers, and I think you might be right, there might be a slight, better value for Okafor out on the market, but I think everyone agrees that that combination of those two players doesn't necessarily work.

The Sixers needs to pick up assets, especially if they're gonna go ahead and do a Ben Simmons or Brandon Ingram with the first pick in the draft. Then they're gonna need those assets to start to fill out their backcourt, because the 24th pick and [the 26th pick], you're not finding starters. I'm not even sure that you're necessarily finding rotation players at that back end of the draft that are gonna make big impact, so they're gonna have to do that via free agency or via trade, and I think either Okafor or Noel — I don't think they'll trade both — but one of those two is probably their best trade chip.
The only real surprise here is that Ford believes the Sixers will make a move before the beginning of the season. This makes some sense considering they could receive draft picks in return for their young players, allowing them to find young contributors at other positions. This could also point to Philadelphia leaning to take Ben Simmons, another power forward currently without a jump shot, with the first overall pick.
The question is who should the Sixers trade and how much value can they get back?
On the surface, the answer to the first question is probably Jahlil Okafor. The center had a somewhat disappointing rookie season despite his raw point totals and as a result has been rumored in trade scenarios before. Nevertheless, he did manage to make it to the All-Rookie First team, and still has potential as a go-to guy on the low block. The issue is that Okafor's game is mostly outdated. There are very few teams, if any, who base their offenses around an old school post-up player with no semblance of a jump shot. Additionally, the way the Duke product plays makes it very difficult to pair him with any other big man.
Noel, meanwhile, can be a very good defensive player. His athleticism and length make him an adept shot-blocker as well as someone who can switch out and guard players on the perimeter on occasion. His offensive game is nowhere near to being refined, but he has improved as a pick and roll partner and could carve out a niche on that side of the floor in that manner.
It will be interesting to see how the Sixers monitor this situation. Will they trade one of their young players immediately, hoping their value has peaked and they can get valuable assets in return? Or will they wait it out for one season and see what each big man in their rotation has to offer before making a decision as to whom they wish to trade?