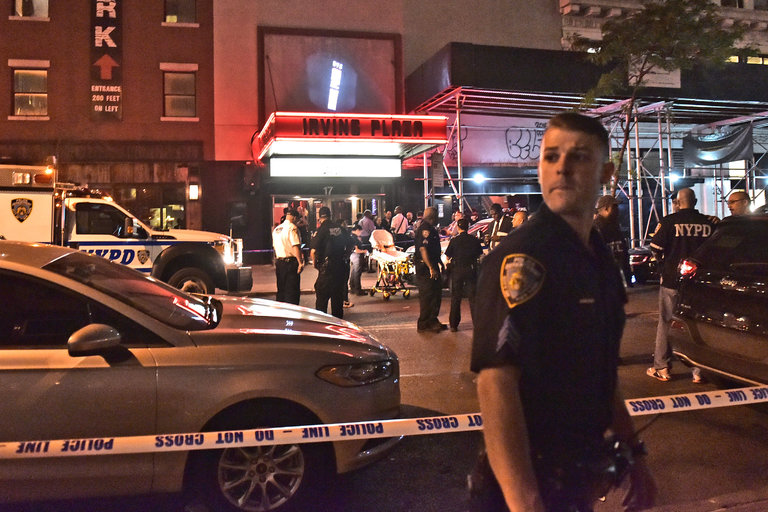 It's never pleasant to hear news that a shooting took place at an event like a concert. The people in attendance are essentially all looking to have a good time with the artist(s) they came out to support. In this case, May 25th will go down as the day a shooting took place at Irving Plaza in NYC. Grand Hustle's own T.I. was expected to headline this concert but at around 10:15 PM things took a turn for the worst. According to the New York Times, a 33-year-old man was killed while three other individuals were reportedly injured due to the shooting that ensued. It was reported that the shooting took place in a third floor greenroom of Irving Plaza while Brooklyn rappers; Maino and Uncle Murda, were on stage performing. At the moment there is no word on if there is a motif for the shooting nor has there been any arrests made. Taking to social media if you happen to search Irving Plaza, you'll come across several tweets illustrating the events that took place for those in attendance. One video was shared below.
Courtesy of The New York Times details of the event were provided by a patron in attendance;
Paul Cantor, 34, of Manhattan, was in the back of the club, which he said was filled with about 1,000 people. He said his attention was drawn to a fight backstage that spilled onto the stage.

Mr. Cantor described seeing a man falling backward like a boxer who had been hit by a hard punch. "There was a body that came across the stage, sort of with flailing arms," he said.

He said a second fight — perhaps related to the first — then broke out on the club's floor. It was maybe five seconds from the time he saw the fights to when people said they heard shots, he said.
Our condolences go out to the family of the man who lost his life and we wish a steady recovery to the three individuals who were injured.
Hopefully this is the first and last situation that takes place in NYC at a concert as the Summer draws near with many more shows and festivals set to take place.
Gunshots just went off at the T.I concert, never been so scared in my life pic.twitter.com/rn0CjpAuaU

— Marco (@markygeezy) May 26, 2016
Update: One of the victims injured is rapper, Troy Ave. We will keep you posted on the latest.
Update: The victim that was murderer during the concert was recently announced as Troy Ave's B$B member Banga. It has now been reported by The New York Daily News that Brooklyn rapper Troy Ave accidentally shot himself during the shooting and was arrested for opening fire backstage at Irving Plaza. In the video provided by New York Daily news, Troy Ave can be seen firing his weapon, which he has been arrested and is being charged with reckless endangerment and illegal weapons possession. To read up further on the on-going case head to NY Daily News