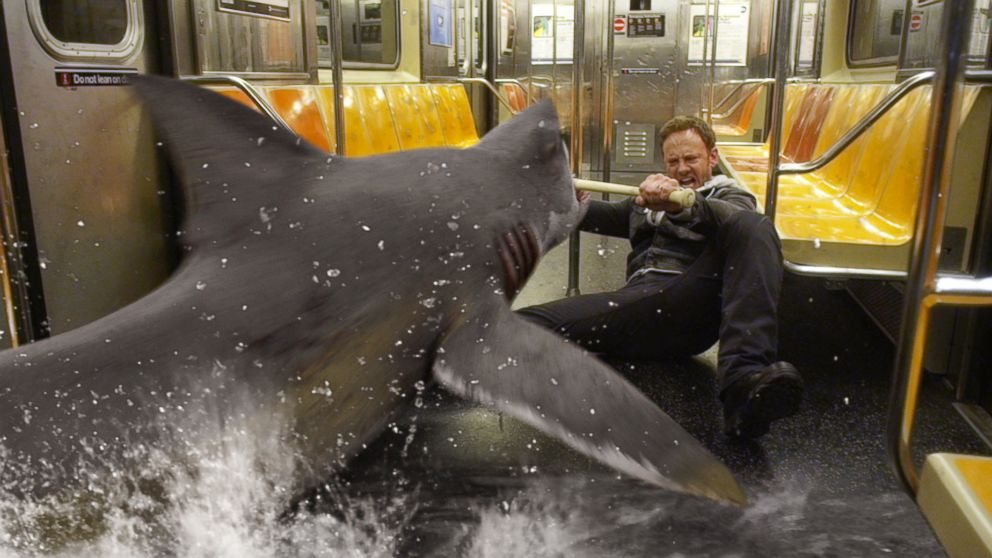 Sharknade 3: Oh Hell No! debuted less than 24 hours ago, and details for the fourth installment have already been revealed!
Sharknado 3 ended with a cliffhanger that left April's (Tara Reid) life in shambles, before the scene cut to black with a message splashed across the screen, "You decide if #AprilLives or #AprilDies," with the announcement that fans can vote on her fate and learn of the outcome in Sharknado 4. The surprise announcement continued, "We're not done yet."
Before the third TV movie premiered, director Anthony C. Ferrante told Variety that he is eager to create another sequel, so long the viewers keep tuning in.
"This one has to be successful, but as long as Syfy wants them, we'll keep doing them,"

"It's a summer event now. It's like a blockbuster movie, but for free on the network. People have parties and even kids love it. You embrace it as long as you can embrace it. As long as everyone wants to keep coming back and we have fun with it, I think you do it."
Ferrante also dished on his wishes for the 4th film:
"I want to do international. There are still U.S. cities that I want to destroy. But it's less about the cities, and it's more about, what are we going to do with Ian and Tara, and what genres do we want to play with?"
Now the vote is in viewers' hands, but if it were up to Ferrante, he would want Ziering and Reid to stick around for more sequels to come. "I think they're your leads," he said. "You wouldn't do 'Die Hard' without Bruce Willis."
"Sharknado 3? also starred David Hasselhoff, Bo Derek, Marc Cuban, Ann Coulter, Jerry Springer, NSync's Chris Kirkpatrick and cameos by Bill Engvall, Lorenzo Lamas, Maria Menounos and TMZ's Harvey Levin. So who's the celebrity dream guest star for "Sharknado 4?" Bill Murray.
"We wanted Bill Murray in this one and I knew the reality of it," said Ferrante. With a laugh, he added, "Remember when Lorne Michaels begged the Beatles to come on 'SNL' in the 1970s and he offered like $10,000? If Bill Murray came to the set, I'd give him a Fig Newton bar because that's all we have – and maybe a beer – and we'll have fun.