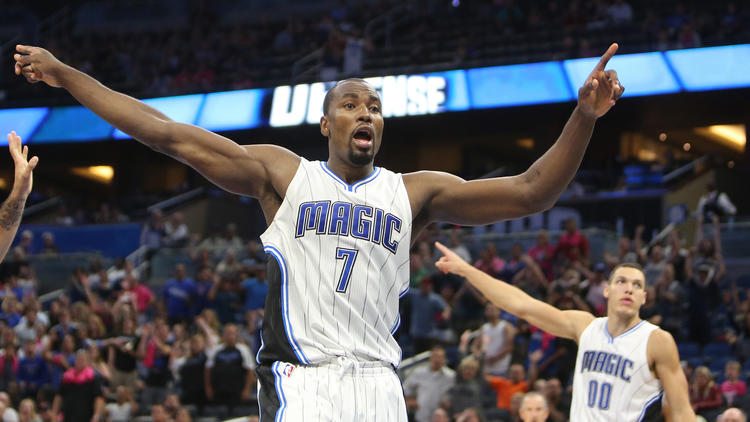 Serge Ibaka was traded to the Orlando Magic on 2016 NBA Draft night in a move that saw the Magic deal Victor Oladipo and their 2016 draft pick, which ended up being Domantas Sabonis, to the Oklahoma City Thunder.
Just a few months into the experiment and their playoff hope slowly dwindling, the Magic decided to cut bait. There were rumors about Ibaka for a while with him connected to a number of teams including the Miami Heat, Toronto Raptors, and even the Houston Rockets. But finally, the Magic have traded Ibaka to the Raptors and received Terrence Ross and a 2017 first round pick in return.
Following from Adrian Wojnarowski of The Vertical on Yahoo! Sports.
In a move to fortify their roster for a playoff run and beyond, the Toronto Raptors reached an agreement to acquire Orlando Magic forward Serge Ibaka, league sources told The Vertical.

The Raptors will send guard/forward Terrence Ross and a 2017 first-round draft pick to the Magic, league sources said. Toronto owns two first-round picks in the draft – including the Clippers' pick – and will send Orlando the lesser in value of the two choices, league sources said.

Toronto general manager Masai Ujiri has long been intrigued with Ibaka, and made the deal with the expectation that the Raptors will be aggressive in working to re-sign Ibaka this summer, league sources said.

Ibaka's looming free agency in July became a stumbling block for the Magic, who had no assurances that Ibaka would re-sign with the team, league sources said.
For the Raptors, Ibaka finally brings that impactful four-man they've been looking for since the Kyle Lowry and DeMar DeRozan era began. Serge brings shooting, defense, and rim protection but there are times where he disappears on the court. He did show some flashes of solid play early on this season with the Magic but Toronto is hoping he can be the difference maker they need.
For Orlando, they get Terrence Ross who is under contract for another two seasons and also get a first round draft pick in a particularly deep draft this season. If nothing else, the Magic have two of the best dunkers in the NBA right now, and they might be kind of fun to watch.