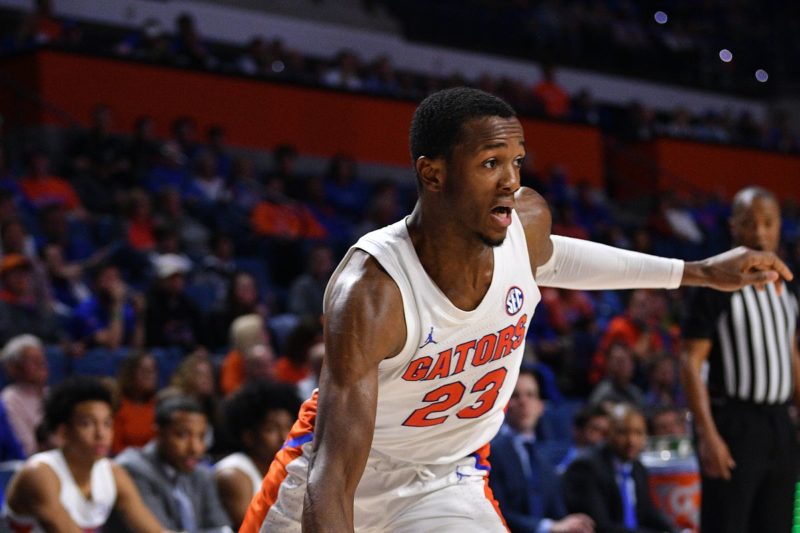 The Florida Gators received great news today with the announcement that freshman guard Scottie Lewis would not be entering the 2020 NBA Draft. He will be returning to the Gators for his sophomore season and will likely declare next year for the 2021 NBA Draft. The move isn't that surprising when you consider the fact that it would be hard for him to improve his draft stock because of the Coronavirus Outbreak and didn't get to play in the NCAA Tournament. Lewis was projected to be a late first-round pick this year. This will give him a chance to improve some of his weaknesses and try to improve his draft stock.
Scottie Lewis is the 1st real surprise this offseason of a player coming back to school without even testing the NBA Draft waters. His mechanics and shooting improved significantly late last season.

First 18 G: 40.4 FG%, 46.7 2P%, 26.5 3P%

Final 12 G: 49.4 FG%, 50 2P%, 48.1 3P%

— Jake Winderman (@jakewinderman) April 6, 2020
The move is a little uprising, but there are limited options for improving draft stock this year. Lewis has the chance to improve his play, but the move comes with risks. Players don't always improve their draft stock in the net draft even if they do play better. Lewis averaged 8.5 points, 3.6 rebounds, 1.2 blocks, and 1.2 steals per game in his first year with the Gators. He is listed at 6'5″ and 185 pounds.
He is likely hoping that he gets a larger role next year under head coach Mike White. A bigger role should help him further show off why he can thrive in the NBA next year. It seems likely that Lewis will be in the 2021 NBA Draft, but his draft stock is hard to determine at the moment. There will be several factors that determine if his decision pays off next year.