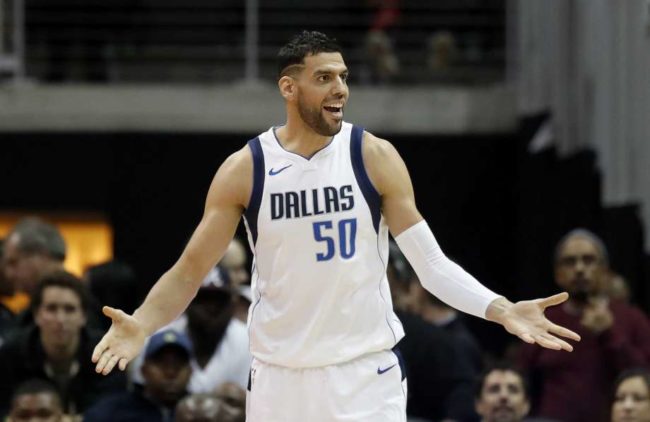 Dallas Mavericks center Salah Mehri disagrees with Jordan Bell on why the two engaged in an altercation during the Warriors-Mavs game on Wednesday night.
Bell, who's in his rookie season with the Warriors, told ESPN he believes Mejri targeted him because of his decision to throw down a flashy late-game dunk back in an October contest. But Mejri, who's played 34 games with Dallas, says the altercation escalated for a different reason.
"He called me the N-word and I was not happy about it," Mejri told Def Pen Hoops. "I told the referee, 'Hey, he can't call me that.' I don't want to be called that word. I don't think it's a big deal, but for real, I don't know the kid, I don't know his name, I don't know his number. The only thing I remember is the dunk he made against us [in October], but he can do whatever he wants. Backboard, behind-the-back, throw it to the fans, he can do whatever he wants. We're playing basketball."
Bell believes his controversial end-of-game dunk in the teams' first meeting was one reason Mejri targeted him, stating Mejri was being "extra" and acted like a "fake tough guy". Mejri laughed off the comments, claiming he did not direct any offensive remarks to Bell.
Mejri claims Bell called him the "N-word" three separate times during the incident. Mejri, who was born in Tunisia and plays for the Tunisian national basketball team, said he explained to Bell there's a difference between playing a physical brand of basketball and acting disrespectful.
"I'm cool with the physicality," Mejri told Def Pen Hoops. "I'm a big guy. I'm going to play physical because that's how I make my money, but don't call me the N-word three times. I literally told him, 'I'm cool with the physicality, but I don't want nobody to disrespect me.' Then he said he didn't say it, and if he did, he would have done something about it."
When first reached by phone at his home in Dallas, Salah Mejri was unaware of who Jordan Bell was. Bell has been with the Warriors since the team traded for him on draft night last June.
"I don't know him," Mejri said. "At least he knows my jersey number, but I don't know him. I don't know him. I'm not trying to be silly, I'm serious. I don't know who he is, for real. The only Jordan who plays basketball that I know is Michael Jordan."
The Mavericks and Warriors next play on February 8 inside Oracle Arena for their fourth and final meeting of the regular season.