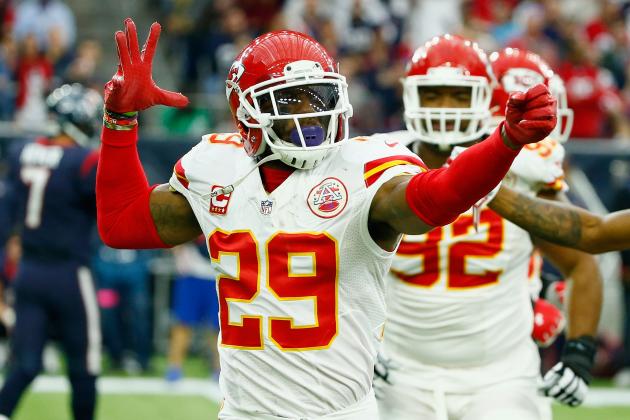 Eric Berry is no newcomer when it comes to making comebacks. Missing time with an Achilles/heel injury to start the 2018 season is just the latest in setbacks for Berry. But he's set to play Thursday night. Yet again, Berry's will and determination win out.
Kansas City safety Eric Berry, who last played for the Chiefs in Week 1 of the 2017 NFL season before rupturing his left Achilles, is expected to make his season debut Thursday night vs Chargers, per source.

— Adam Schefter (@AdamSchefter) December 12, 2018
In 2011 he only played in one game before tearing his ACL and missing the rest of the season. He came back in 2012 to make the Pro Bowl. In 2013, he was named to the AP's All-Pro first team. In 2014 he only played in six of Kansas City's games and was ultimately diagnosed with Hodgkin's lymphoma, a form of cancer. He came back in 2015 to play in all but one of the Chiefs' regular season games. He was named the NFL's Comeback Player of the Year that season, was selected to the Pro Bowl and again named to the AP's All-Pro First Team.
Berry headed into 2017 with the highest of expectations but ruptured his Achilles in the first game of the season. He hasn't played since. The injury usually requires a year-long recovery, but Berry has dealt with bone spurs in that same area of the injury. That has complicated his return. But again, Eric Berry's perseverance will win out as he's set to be in uniform for Kansas City's Week 15 game against the Los Angeles Chargers.
At his best, Berry is one of the best safeties, if not the best safety, in the NFL. In all likelihood, it'll take him a while to get back in shape and gain his feel of the game again, but he's certainly a welcome addition to a Chiefs defense that has struggled at times this season, despite the teams' sparkling 11-2 record.
The 29-year-old safety has 14 career interceptions (five returned for touchdowns), 437 total tackles, and 5.5 sacks. He also has forced four fumbles and recovered two.
Eric Berry is no stranger to the long road back after injuries, illness, and setbacks. He's had to prove that over and over and over again.