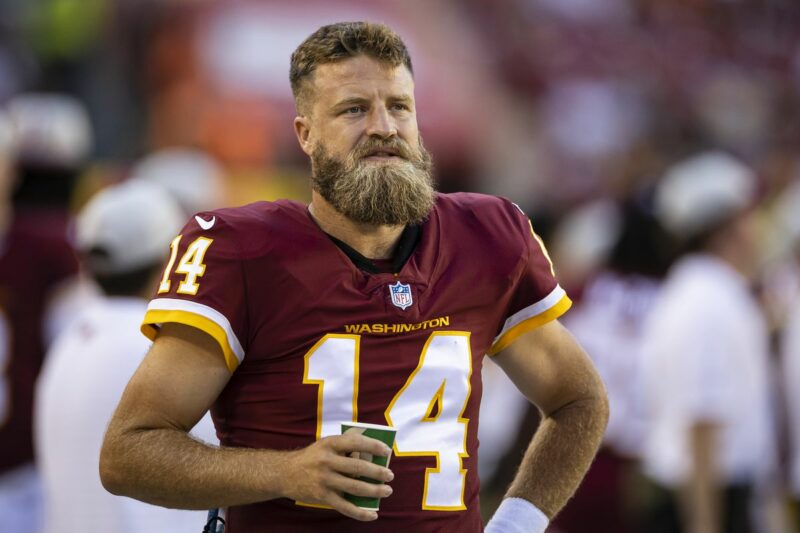 After 17 seasons and a lot of memorable plays in the field, Ryan Fitzpatrick is retiring, as his former teammate, Fred Jackson tweeted on his social media with a text message from the Quarterback.
Congrats on a Helluva career, Fitzy!! Loved sharing the field with you!! The gratitude is all mine!! #BillsMafia #fitzmagic pic.twitter.com/s7n4DsiLJ7

— Fred Jackson (@Fred22Jackson) June 2, 2022
Fitzpatrick played his last season with the Washington Commanders and a hip injury during the first game of the season against the Los Angeles Chargers ended his last season in the league. But that game might not be the last time we see our beloved Fitzmagic in a game of football as a career in broadcasting is a possibility according to several reporters.
Ryan Fitzpatrick hangs it up after 17 NFL seasons, with broadcasting quite likely in his future. https://t.co/1CiQM713kC

— Tom Pelissero (@TomPelissero) June 2, 2022
A hip injury shortened his final year, but Ryan Fitzpatrick heads into retirement with some incredible moments and memories. And… I don't think we've seen the last of him ? https://t.co/HZusrsLAIm

— Ian Rapoport (@RapSheet) June 2, 2022
Fitzpatrick, drafted by the Saint Louis Rams in 2005, served as the starting quarterback for nine different franchises in the league, which is the most for any player in NFL history. In addition to the Rams and Commanders, the list includes the Bengals, Bills, Buccaneers, Dolphins, Jets, Texans, Titans.
He finishes his career with almost 35.000 passing yards, 223 passing touchdowns and 21 more from the ground in 166 games played.