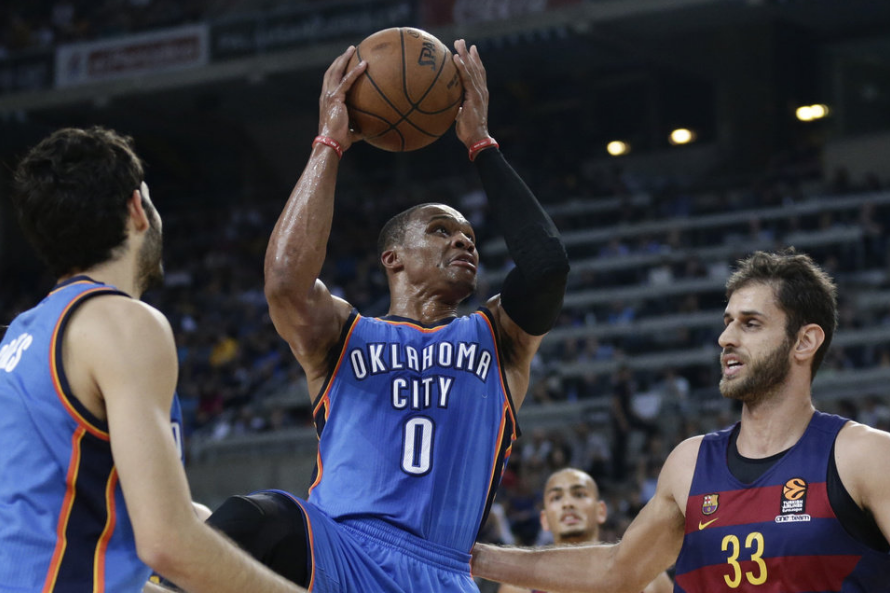 Last year, Kevin Durant was inducted into the Oklahoma Hall of Fame. He's gone, but Oklahoma City Thunder point guard Russell Westbrook remains in OKC, and now it's his turn. And he's going to be presented by the GOAT. Michael Jordan himself. From Darnell Mayberry of NewsOK:
"We are truly excited to have Michael Jordan presenting Russell Westbrook, and we are equally fortunate to have a full slate of accomplished presenters joining us at this year's ceremony," said Shannon Rich, president and CEO of the Oklahoma Hall of Fame and Gaylord-Pickens Museum. "They provide us a meaningful opportunity to celebrate this year's inductees and forward our mission of telling Oklahoma's story through its people."

…

"It's definitely a huge honor in itself for M.J. to come down to Oklahoma and take part in the Oklahoma Hall of Fame festivities," said Westbrook in [a] statement. "It really means a lot to me that he's going to be there, and it's something that I definitely don't take for granted."
Jordan's shoe and apparel company sponsors Westbrook. Other Oklahomans that will be inducted alongside Westbrook include Rita Aragon (Oklahoma Secretary of Veterans Affairs), Michael Burrage (former United States District Judge of Oklahoma), Troy Aikman (former NFL player), Becky Dixon (television broadcaster), and Kelli O'Hara (actress/singer).