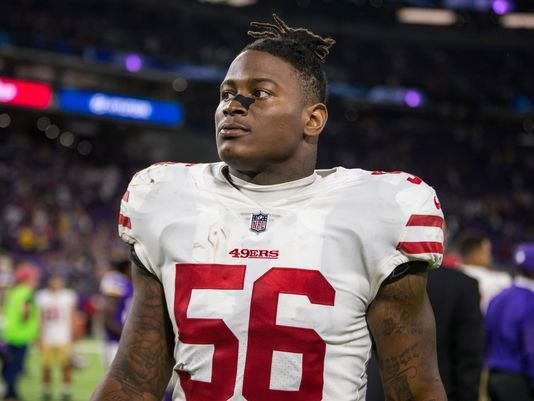 Reuben Foster has had an eventful NFL career, and not necessarily in a good way. The linebacker was taken with the 31st overall pick in the 2017 NFL Draft and has since been released and joined a new team. But his 2019 looks like it's over before it got started as Foster is expected to miss the entire season with a torn ACL.
The #Redskins officially placed LB Reuben Foster (ACL) on season-ending Injured Reserve and signed free agent LB Jon Bostic.

— Ian Rapoport (@RapSheet) May 22, 2019
Since coming into the league, Foster's off-field concerns have plagued him. In July of 2017, he was suspended for violating the league's substance abuse policy. It was allegations of domestic abuse, however, that led the San Francisco 49ers to waive him last November.
Upon being released, he was promptly claimed by the Washington Redskins. A move that drew plenty of controversy. He didn't actually play for Washington, though, as they waited for the fallout from the domestic abuse case.
Now it looks like it will be 2020 before Foster gets to play another down in the NFL. He's already been placed on injured reserve, so the Redskins wasted no time there. Plus, with the open roster spot that comes from Foster going on IR, they signed linebacker Jon Bostic, who's played for the Bears and Ravens.
Washington could still designate Foster as a player to come back off IR to the active roster, but that can't happen before Week 10. So even at the earliest, Foster return to action won't be until late 2019. But given the nature of the injury, making it back in 2019 may prove to be too ambitious a timeline.
The 25-year-old Foster has played in 16 professional games and 101 total tackles.