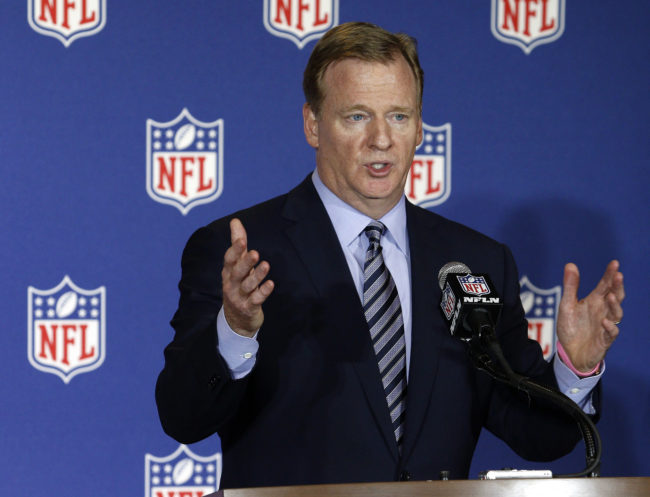 The rule of what is and is not a catch in the NFL has been a much-debated topic this season. So much so that it has caught the attention of NFL commissioner Roger Goodell. In an interview with FS1's Colin Cowherd, Goodell stated that he is 'concerned' about the rule.
"I'm not just somewhat concerned, I am concerned… It's particularly in the going to the ground that I think is creating a lot of the confusion." — NFL Commissioner Roger Goodell on the 'Catch Rule' pic.twitter.com/sn9CAqwKUv

— Herd w/Colin Cowherd (@TheHerd) January 29, 2018
Goodell states that earlier in the month he convened a summit of five Hall of Fame receivers and a number of coaches to discuss the rule.
The debate really began to heat up in the Week 15 game between the New England Patriots and the Pittsburgh Steelers. Steelers tight end Jesse James appeared to catch a game-winning touchdown but lost control of the ball when he came down. Steelers quarterback Ben Roethlisberger threw an interception two plays later.
The play had huge playoff implications. The Patriots would grab the 1 seed and the Steelers the 2 seed for the AFC. The Steelers would lose to the Jacksonville Jaguars in the AFC Divisional round, while the Patriots cruised to victory over the Tennesse Titans.
A change to the rule could help clear things up in the future on what is and is not a catch. Other instances, such as ones involving former Detroit Lions receiver Calvin Johnson and Dallas Cowboys receiver Dez Bryant, have brought the current rule into question.
Goodell has optimism that the rule will get fixed. He says, "I hope we'll be able to address this in a way that will bring more clarity and frankly more excitement to this."