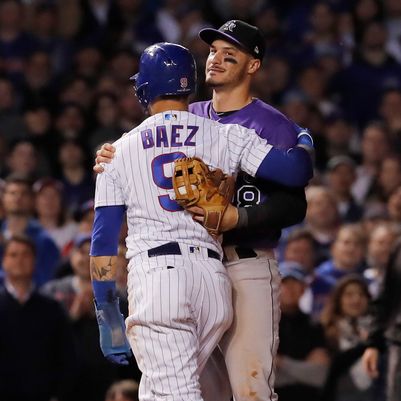 The Colorado Rockies will advance to the National League Division Series after beating the Chicago Cubs 2-1. Tony Wolters, the Rockies backup catcher, was the hero on the night. He singled in the top of the 13th to send the winning run home.
Kyle Freeman and veteran starter Jon Lester took the mound tonight for their teams and delivered a pitchers dual. Freeman lasted 6.2 innings while only allowing four hits and one run. Lester followed up Freeman's start by going 6 innings and striking out 9 while only giving up one run.
Javier Baez hit a tying double for the Cubs off reliever Adam Ottavino with two outs in the eighth inning Tuesday night. As midnight approached in Chicago, it was the longest postseason game by innings and time in Wrigley Field history. Cole Hamels pitched two solid innings in relief in his most important role since being traded from the Rangers.
It's the third time a wild-card game has gone to extra innings. Kansas City beat Oakland in 12 innings in the 2014 AL wild-card game, and Toronto defeated Baltimore in 11 innings to take the 2016 AL wild-card game.