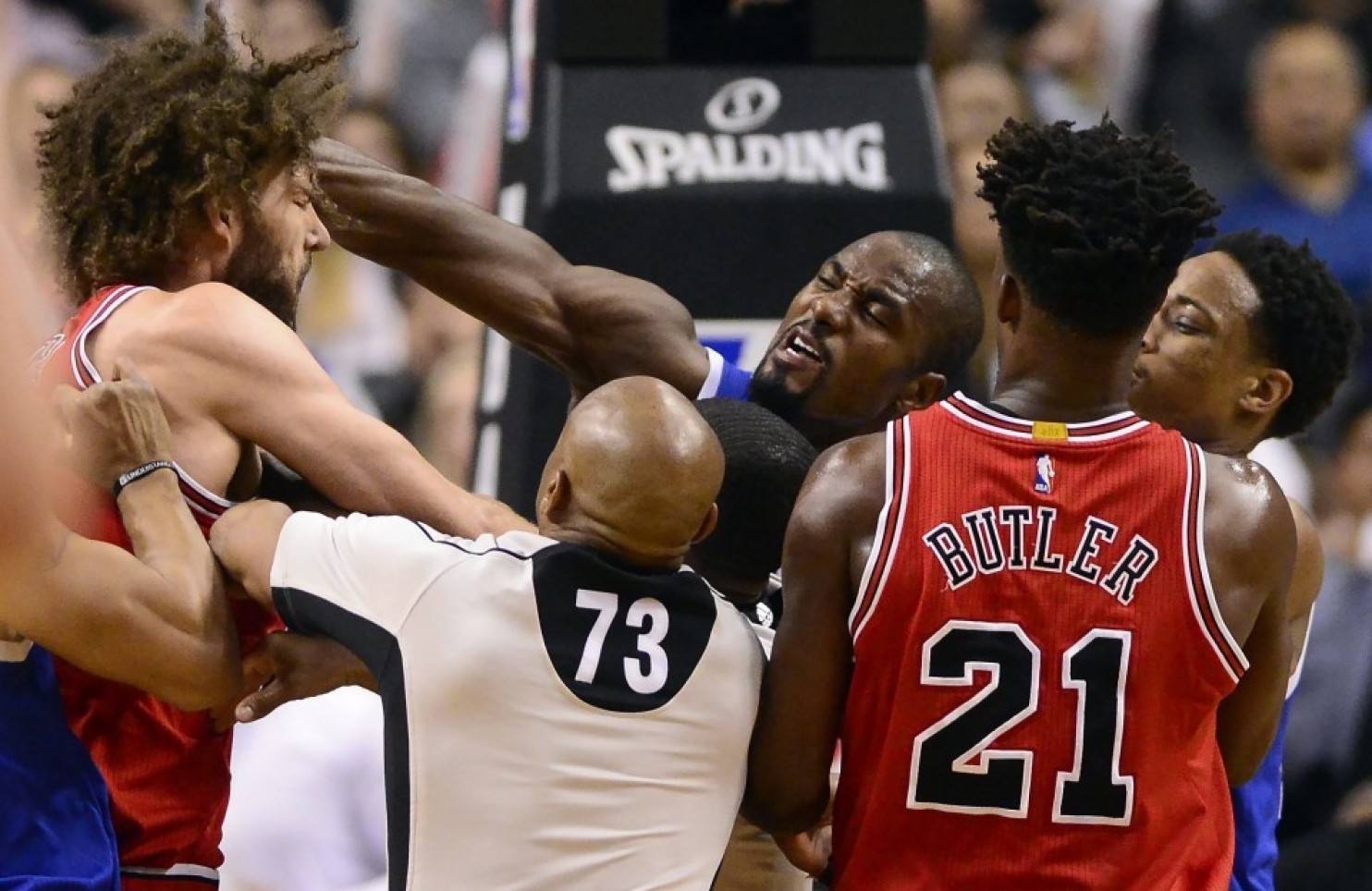 Anytime the Chicago Bulls and Toronto Raptors match-up, we're in for a treat. The Bulls have had the Raptors' number for years now and have continued their dominance even as Toronto has been the clearly better team over the last two seasons.
On Tuesday, Chicago and Toronto met again in one of the more contentious battles between the two squads. The game was so frisky in fact, that it led to a significant altercation in the second half.
Bulls' center Robin Lopez and recent Raptors' trade acquisition Serge Ibaka came to blows in the third quarter of the contest. After briefly butting heads and being separated by teammates, both Lopez and Ibaka threw punches at the other. While neither punch landed with much of an impact, it was enough to get both players ejected from the game, helping to spark a Raptors' comeback.
ROBIN LOPEZ AND SERGE IBAKA THROWING PUNCHES! WHOA ???

(via @clippittv)pic.twitter.com/fconJ8zBLW

— Def Pen Hoops (@DefPenHoops) March 22, 2017
Ibaka explained the whole situation after the game, defending his decision to punch back after RoLo's initial attempt:
Meanwhile, Robin's brother Brook was busy helping his lowly Nets get a big win over the Detroit Pistons, including hitting a game-winner. After learning about his brother's ejection, Brook had some jokes to get off:
Robin Lopez ejected for throwing punch, Brook hits game-winner. "Well, the Lopez twins were just both doing what we do tonight," Brook says.

— Brian Mahoney (@briancmahoney) March 22, 2017
More Brook Lopez, after hitting game-winner, on he and Robin. "He was doing his dirty job, all that BS, and I was playing real basketball."

— Brian Mahoney (@briancmahoney) March 22, 2017
Robin Lopez and Serge Ibaka got ejected for throwing punches at each other.

Brook Lopez says he's pulling for Ibaka in the grudge match. pic.twitter.com/IojTobIF8k

— Kristian Winfield (@Krisplashed) March 22, 2017
Obviously, the NBA will have concerns over the altercation between Ibaka and Lopez. Both players threw punches and that is often met with some swift punishment. Both players will likely receive suspensions when all is set and done. After all, that's what Robin Lopez is expecting:
Lopez: "I'm expecting to be suspended."

— K.C. Johnson (@KCJHoop) March 22, 2017