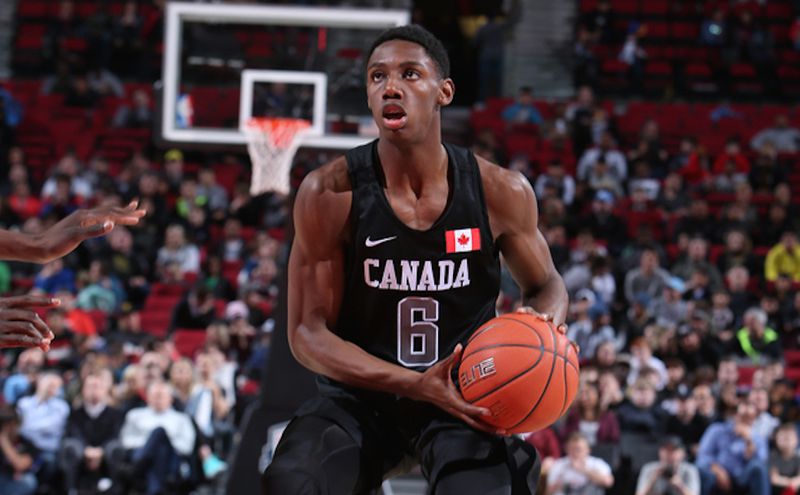 The top player in the high school recruiting class of 2018 has just made his college decision. R.J. Barrett, the number one player in the ESPN Class of 2018 rankings, has announced that he will be playing college basketball for the Duke Blue Devils. Barrett recently reclassified from the class of 2019 to 2018 and immediately surpassed Zion Williamson into the top spot. Barrett was considering Oregon, Duke and Kentucky before ultimately committing to Duke.
Joining Duke, Barrett will team up with two other top ten prospects Cam Reddish and Tre Jones at Duke next year. Reddish and Barrett will make a nice three and small ball four combo next year for the Blue Devils. Those two will have the chance to remind Duke fans of the year Jabari Parker and Rodney Hood starred for a young Duke team. The difference between that team and this one will be Reddish and Barrett having a point guard who can get them the ball in Jones. Jones, the little brother of former Duke point guard Tyus Jones will also look to lead the Blue Devils to a national championship like his brother did in his one year in school.
Barrett meanwhile should be very impactful for Duke in his one season there. Looking ahead already Barrett is a no doubt top two pick when he decides to leave for school. At 6'6″, Barrett has elite athleticism at the three spot allowing to get to the basket at will in high school. Like most players with his explosiveness, he needs to continue to shore up his jumper.
With the collection of three top 10 players, it looks like Coach K is well on his way to yet another top-ranked recruiting class. With other targets still remaining in the top ten, this has the ability to be Coach K's best class yet.