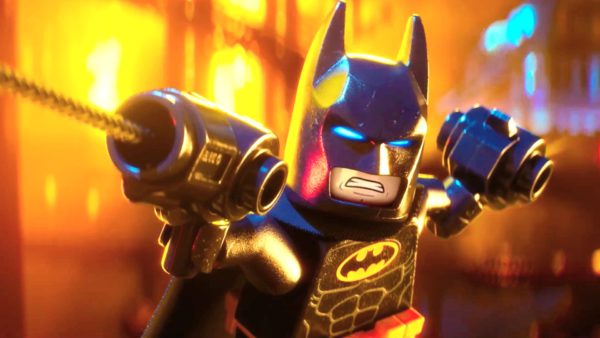 It's not always the best course of action to give a supporting character their own spinoff. What works in small doses may not have have what it takes to sustain a whole feature. But when that character is Batman, well, how can you not?
The Lego Batman Movie (not to be confused with Lego Batman: The Movie from all the way back in 2013) doesn't top its predecessor, yet still provides the same sort of good time that kids and adults can get good mileage from.
Batman (Will Arnett) is doing the vigilante thing cleaning up Gotham City, but when Barbara Gordon (Rosario Dawson) takes over as police commissioner, she wants him to start working with the proper authorities. Being the loner he is though, he wants no part of that and is equally resistant in taking on Robin (Michael Cera) as a protégé despite Alfred's (Ralph Fiennes) insistence.
At the same time, The Joker (Zach Galifianakis) is miffed that Batman doesn't consider him to be his greatest adversary and hatches a bizarre plan where he and all the other villains…surrender. The caped crusader suspects something's up, and the investigation begins.
This plot is very thin, but does evoke what a child playing with Legos might come up with. Still, that doesn't make it any more satisfying from a viewer's perspective. It does however lead into a central theme of the movie about the importance of companionship, which in general is good for children to learn of course but serves the deeper level purpose of rebuking the notion that Batman needs to always be a lone wolf.
There is no reference made to The Lego Movie, so where and when this happening in relation to that is not addressed. Anyone hoping to see Emmet or Wyldstyle, don't. However, it does take inspiration from it for some crossover appearances of characters outside of DC comics (though there is a large missed opportunity there, given that a certain cast member is on hand).
The social commentary of the last movie is gone. This time, the reticles are set to the Batman franchise as a whole. To start with the most apparent, Arnett's voice affectation is skewering the cadence that's become cliche in the films. More than that though, each of the live action films are specifically spoofed as is the '60s TV show. Interestingly there's even a couple castings that seem to be criticizing how those films handled things, namely Billy Dee Williams (fired from the series before his character became Two-Face) and Zoe Kravitz (refused an audition for The Dark Knight Rises because they "weren't going urban").
But perhaps the greatest statement against the series it makes is by just being fun. Vibrant and humorous with plenty of inside references, the movie proves that brooding and grim doesn't have to be the default mood for Batman. And with the recent death of Adam West (actually in this film via clips of the TV show), maybe this tone could use some appreciation.
If you're of the opinion that Batman should only be handled by Frank Miller and Christopher Nolan, this might not be the film for you. But most anyone else should be more than pleased with Lego Batman. Now, how about a Unikitty movie?