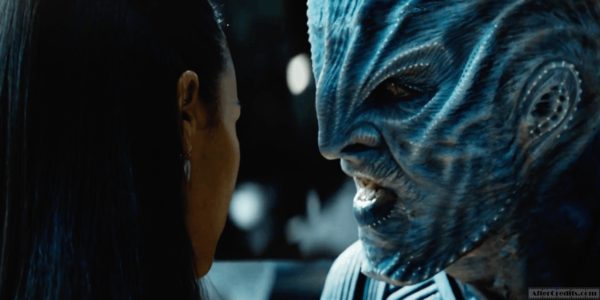 It's official: the even-odd rule for the Star Trek series of films has switched. The curse has reversed.
It started in 2009 when the 11th movie turned out to be pretty great, but was followed by Into Darkness, the absolutely abysmal 12th entry that's the nadir of the entire franchise. And here we are now with lucky number 13, Star Trek Beyond.
Starfleet receives a distress call from Kalara (Lydia Wilson), who claims that the crew of her scientific expedition is marooned on a planet that she managed to escape. Captain Kirk (Chris Pine) and crew are assigned to escort her back and investigate. But en route and nearing entry, the Enterprise is broken into by space baddie Krall (Idris Elba) and his henchmen in Master Chief armor. While they tear the place apart looking for a piece to a super weapon thing, Kirk has stashed it away and gotten himself and several others into the escape pods before the ship crashes.
Now on the planet, the team is splintered. Kirk with Chekov (Anton Yelchin), an injured Spock (Zachary Quinto) with Dr. McCoy (Karl Urban), and Scotty (Simon Pegg, who also co-wrote) initially on his own but soon meets scavenger Jaylah (Sofia Boutella). The remaining crew, including Uhura (Zoe Saldana) and Sulu (John Cho), are held hostage at Krall's base. Once again, our heroes have their work cut out for them.
The progressive and optimistic spirit of the show that Gene Roddenberry worked so hard to give it is alive and well here, a very pleasant turn of events after it was discarded by the previous installment. Before the mission begins, downtime is spent on a space station/colony where people – of all races, sexualities, species – live together harmoniously. It doesn't take up a lot of screen time, but there isn't any need for it to since the differences are treated as no big deal whatsoever. Countless stories have a villain out to destroy the world, but few effectively make the case for why that world is worth saving.
And although it does seem like it would feel right at home on the original series, it moves ahead in forging its own identity as a motion picture franchise. Beyond marks the very first time for the films that no cast member from any of the television shows participates. Instead they make the most of the actors and characters they do have, to which the plot of splitting them up lends itself well. To that effect the pairings are rather inspired. Quinto and Urban is probably the best of those (the latter walking away with some of the most memorable moments), but Saldana and Elba going against each other was terrific to watch.
What can be considered problems aren't major. While some tricks are hidden up the sleeve in regards to Krall, he comes out a bit over developed, with two or three motives when just one would suffice. Also the story bears more than a little resemblance to the inciting incident of the first Star Wars film and the Jaylah character is very akin to Rey in The Force Awakens. Given that that latest sequel was itself criticized for cribbing from the original, it feels like this would have been a good place for commentary but wasn't taken advantage of.
Overall though, a great way to celebrate 50 years of Star Trek. Enjoy things while you can, because if the pattern holds, the next movie is not going to be good.