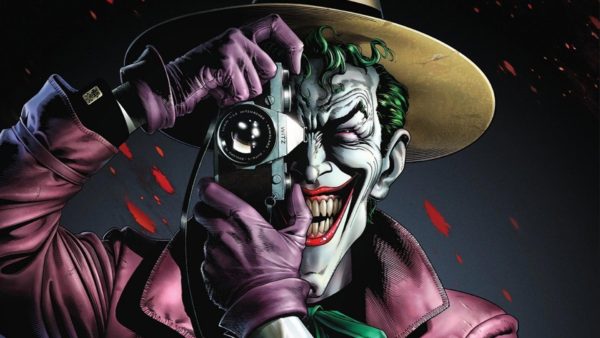 For fans of films based on DC comics, the offerings this year have been frustrating to say the least. The live action movies have not gone over well and now, as proven by Batman: The Killing Joke, it seems the animated ones could also be in trouble.
For years a string of animated films have been released direct to video, but The Killing Joke is the most ambitious of them, with even one of those Fathom short theatrical stints. And it stood a good chance of really elevating the line, were it not so terribly uneven.
The Joker (Mark Hamill) has escaped from Arkham Asylum for the umpteenth time. Taking over an abandoned amusement park and kidnapping Commissioner Gordon (Ray Wise), he's out to show Batman (Kevin Conroy) once and for all what a madman can do. Interspersed are flashbacks that provide his origin story. An aspiring stand-up comic struggling to support a wife (Anna Vocino) and child on the way, he soon veers on a path of criminal activity from which he will never return.
Or at least, that's the synopsis for the classic graphic novel that only starts roughly a half hour into a runtime of 75 minutes. Before that is a very unnecessary vignette on Batgirl/Barbara Gordon (Tara Strong) and her partnership with Batman in fighting some mafia goons. But it devolves into being about the sexual relationship between the two and the toll it takes on her desire to continue fighting crime.
When watching this unfold, words like "wrong" and "gross" and "character assassination" come to mind; all are understatements. What's even worse is that is apparently supposed to give Barbara some kind of positive development prior to her (admittedly "fridged") brief role in The Killing Joke, but only makes things much more problematic. In the comics there actually was a Batgirl story that served the same purpose (Batgirl Special #1), but it is disregarded entirely. Why? Why make up some horrible new story for her when a perfectly good one already exists?
If a prologue was absolutely needed, it should have been something actually relevant to the Killing Joke story. How about the encounter with The Joker that got him captured and sent to Arkham in the first place? Or exploring some more into his past? But the better option would've been to just nix it altogether and give the existing material some more atmosphere and breathing room.
However, as soon as the Killing Joke portion begins, the quality drastically turns around. There's a reason why this story has had such an impact on readers that it was accepted into DC canon and became the reference point for depictions of The Joker thereafter, most notably The Dark Knight. This film stays more or less faithful to the page and just as much delivers some excellent and powerful moments.
Let it be said too that as the clown prince of crime, Hamill is at his virtuoso best. In my book he's the actor that's given the greatest performance(s) of the character by far and is always going to be the standard all others measure up to. This time, Hamill is tasked with double duty, having to play the character in his villainous present and also his sympathetic past. He is able to amazingly handle both where they feel as distinctly different as their states of mind, yet similar that it's unmistakably the same person and perhaps even hint that the Joker persona maybe isn't that far off from where he started.
Batman: The Killing Joke does justice to the graphic novel, but only to that. It's a major shame and disappointment that story had to be shackled to an awful one so at odds with it.