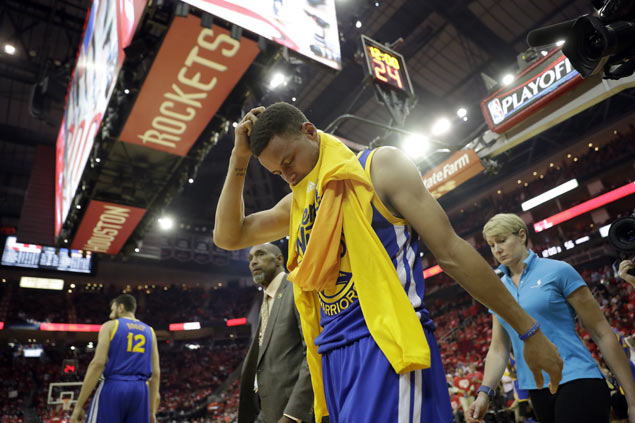 Steph Curry's injury has unfortunately been the biggest storyline of the playoffs. The Golden State Warriors point guard sprained his knee in game four of the team's first round matchup with the Houston Rockets and his return to the court is a mystery.
Some good news is on the horizon, however. According to Marc Stein of ESPN, the reigning MVP is already feeling better and will begin testing his knee on the court next week. That does not guarantee any sort of timeline as to when he will officially be back to play, but it does place some hope that it will be sooner rather than later.
The Warriors have managed without their best player on the court so far, blowing out the Rockets in the game and a half he missed with the injury. The next round will see them face either the over-achieving Trail Blazers or the brutally injured Clippers. In either scenario, the Warriors will likely be able to hold their own until Steph is back, but his return will be crucial in getting any further.
Both of those teams will still pose a challenge and a healthy Steph Curry will be necessary to get past the Spurs or Thunder in the Conference Finals. So, Curry's health is of utmost importance. Fortunately, it appears he will be able to return soon, but the level at which he plays after a knee injury will be the true key to the Warriors' success.