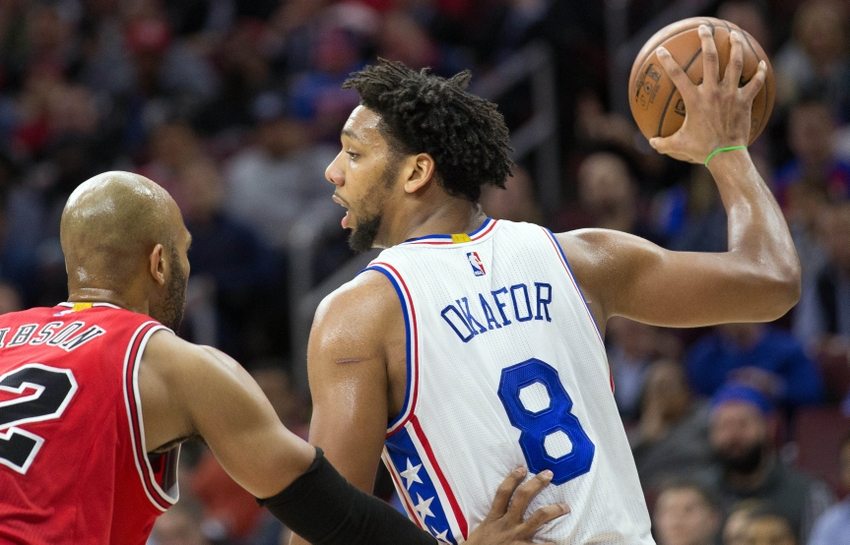 The Chicago Bulls seem to have a thing for players from their city. First, it was Derrick Rose who grew up to be the face of the franchise before eventually being shipped off to New York. Almost immediately, they replaced Rose with Dwyane Wade, another Chicago-native, whose time with the Bulls may end sooner than expected due to the mess that is their team.
Could the Bulls be looking for another Chicago native to move back home and join their squad? According to Vincent Goodwill of CSN Chicago, that is a proposition on the table with regards to Philadelphia 76ers' center Jahlil Okafor:
The Bulls have been active with the trade deadline approaching, and they've inquired about the availability of Philadelphia 76ers center Jahlil Okafor, multiple league sources tell CSNChicago.com.
This is an interesting proposition to be sure. Okafor would not solve the Bulls' issues one bit, but he would at least give them a young player to build a core with, something that they have a distinct lack of. Whether that makes sense when they have a star in Jimmy Butler who is already in his prime is a fair question, but adding talent even in the form of Okafor who has not lived up to his draft status (especially on the defensive end) is never a bad idea. It could also signal a decision to blow up the team entirely and rebuild from scratch, another fair strategy for the Bulls.
One would have to wonder how this trade could even happen. Matching up salaries would be difficult unless the 76ers are interested in the Bulls' young pieces that leave a lot to be desired. According to Goodwill, the trade talks have so far been initiated and catalyzed by the Bulls.
Perhaps the Bulls could use this as an opportunity to ship out Rajon Rondo who has shockingly not meshed well with another team. But even in that scenario, the 76ers would want more regardless of their need to clear out their center logjam. A third team could be thrown into the trade and would likely be the only way to make this work.
The 76ers were bound to move on from one of Nerlens Noel or Jahlil Okafor eventually. With Noel playing so well recently, it appears as though Okafor's time in Philly could be coming to an end soon. Whether that leads him to Chicago is an entirely different question.