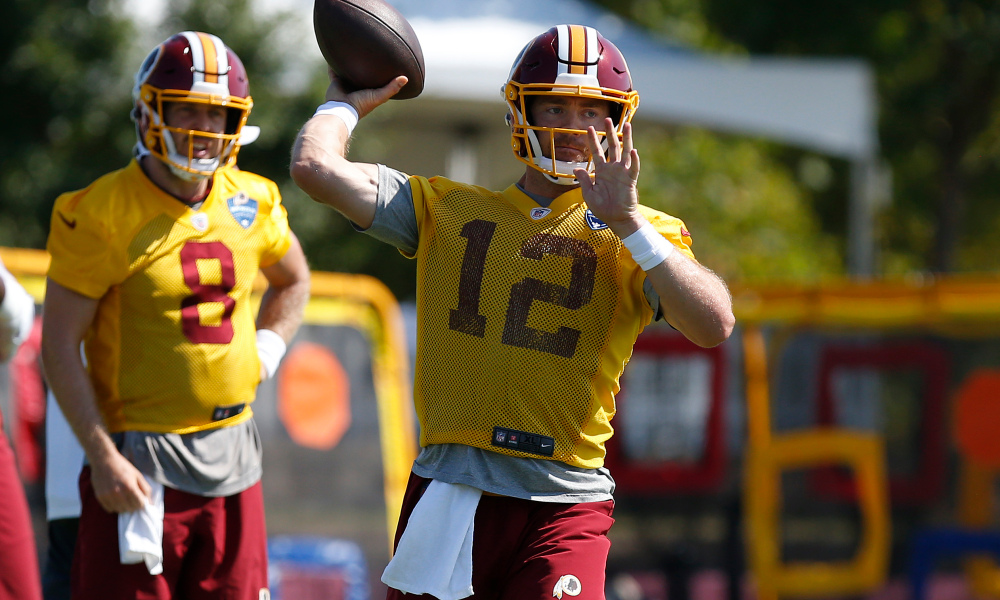 The Washington Redskins find themselves in a dire situation a quarter into their 2019 campaign. They currently have yet to win a game, two of them being divisional losses, and their injury situation is also bleak.
Washington's starting quarterback situation is in a state of flux as well. After both Case Keenum and rookie Dwayne Haskins saw snaps in their Week 4 loss to the New York Giants, it'll be Washington's third option getting the starting nod in Week 5. According to Redskins.com's Zach Selby, head coach Jay Gruden announced that veteran Colt McCoy will be the man under center against New England this Sunday.
After a week of questions, we have an answer: McCoy will be the starter against New England on Sunday.

"I decided a long time ago," head coach Jay Gruden announced during his press conference Friday. "We're going to go with Colt and go from there."
While the quarterback position this season was expected to turn into an exciting glimpse towards the future with rookie Dwayne Haskins, it has instead been a disaster. While starter Case Keenum was solid through Washington's first three weeks, the wheels fell off in Week 4 against their division rival New York.
Keenum struggled out of the gate and Washington soon found itself in a 17-3 hole. Likely hearing the noise and speculation throughout the week, Gruden decided to insert Haskins for the first time in his NFL career. For Haskins, you couldn't have asked for a much worse situation to step into.
Washington was dealing with a slew of key injuries on the offensive side with Derrius Guice, Jordan Reed and Terry McLaurin all sidelined. Not to mention superstar left tackle Trent Williams is still away from the team amid a holdout and starting offensive linemen Brandon Scherff and Chase Roullier were also inactive. Haskins came in and, unsurprisingly, struggled, throwing three interceptions.
Now at 0-4 Gruden has sent Haskins back to the bench in favor of the trusty Colt McCoy for what should be a Week 5 massacre at the hands of the undefeated New England Patriots. Keeping Haskins out of the lineup for Week 5 was the right move but it shouldn't have been a decision in the first place had Haskins never been inserted during their loss against New York.
Now McCoy will try to ignite a bad offense in a matchup against the league's top defensive unit. Don't expect things to get much better for Washington in Week 5 and the noise around Jay Gruden's job security should only escalate in the coming days.