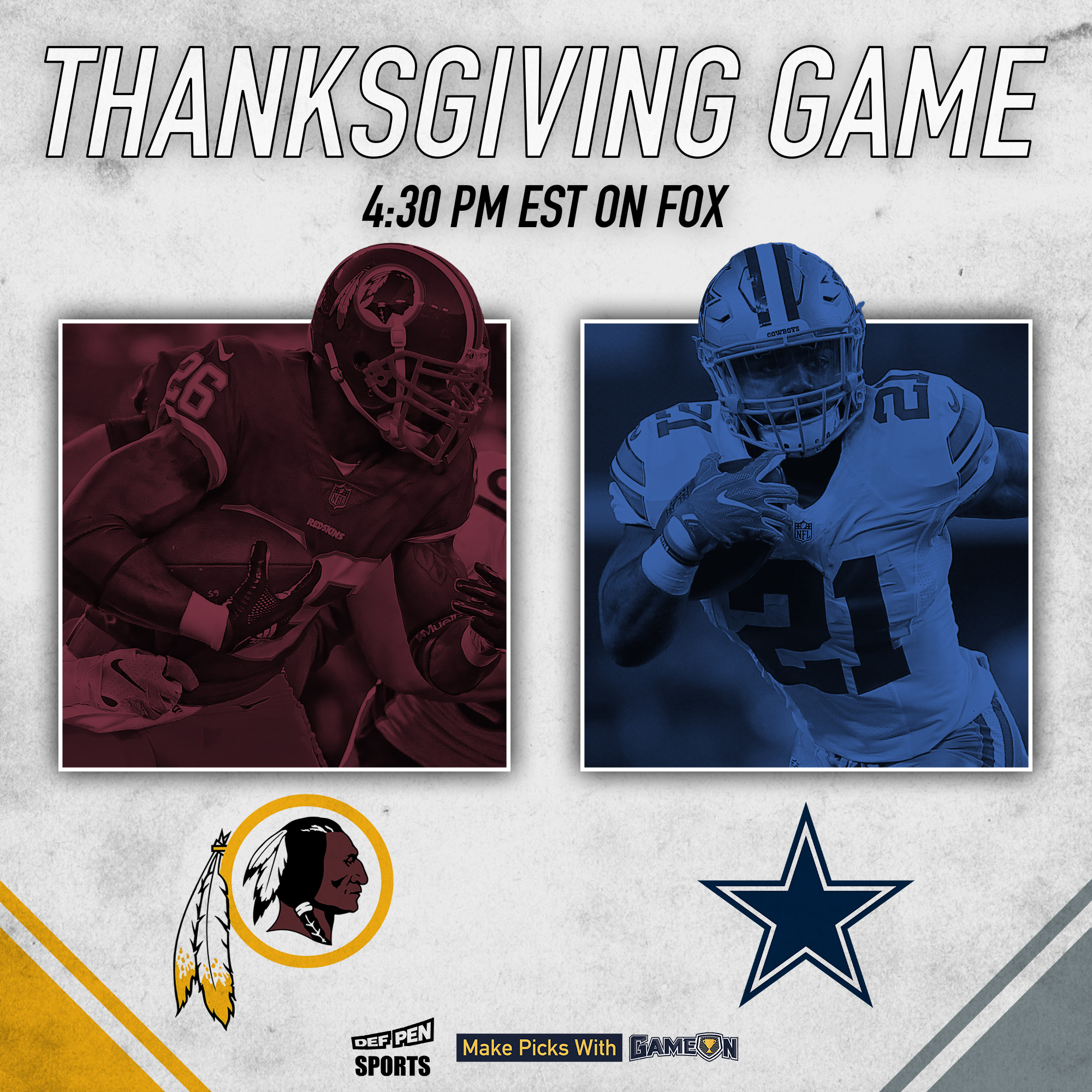 This game doesn't project quite the same way the Rams-Chiefs shootout did – it'd be aggressive to expect even half the scoring in this game as there was in that one. But, there's plenty of meaningful ramifications here. Specifically, the NFC East crown. And directly correlated to that, a playoff spot. Especially with Alex Smith now out, this could either be the beginning of Washington's downward spiral, or the beginning of a surprising resurgence in D.C.
Featured Pick #1: Will Ezekiel Elliott have a rush for 10+ yards? (Yes)
It's hard to justify any other pick here when Elliott is so clearly the Cowboys' number one option on offense. The 23-year-old running back has 191 carries and 42 receptions. With such an emphasis on diversified offenses these days, those are pretty startling totals. As Elliott's production goes, so does that Dallas Cowboys.
With 47 yards this game, Elliott could reach the 1,000-yard mark second time in his career. And you have to think he's gunning for that number. For as good a player as he is, missing time because of injury and suspension has cost him 1,000-yard seasons the past two years. On Thanksgiving, he could be running with more attitude than usual.
Besides Elliott, no other Cowboy has more than four combined rushing and receiving touchdowns. Elliott has seven. This should be one of the less nerve-racking picks as you navigate your way to the million dollars.
Featured Pick #2: Who will score the Redskins first touchdown? (Adrian Peterson)
Last week, Washington had 181 yards rushing. The lowest total since Week 2. With Colt McCoy now at the helm, they figure to lean on their running backs a lot. And it's not like they have a real pass-catching threat on the outside, anyway. With the exceptions of Jordan Reed's 44 catches, running back Kapri Bibbs has the most receptions with 28. Next, after that is wideout Maurice Harris at 27.
Given those numbers, your pick here comes down to Reed or Peterson. The "Any other player" option doesn't even feel all that appealing here.
Peterson is well on his way to another 1,000-yard season. And he sports a mark of 72.3 yards/game and 4.2 yards/attempt. He's had 26 carries twice this season, the most so far. That stands to get one-up on Thursday, giving you plenty of scoring opportunity for a team that has few other options at the moment.
Featured Pick #3: Who will win the game? (Cowboys by 7-12)
Dallas has trouble getting the ball in the end zone. They rank 25th in scoring. They've managed to win games by controlling possession of the ball and solid defense. In fact, they're 3rd in fewest points allowed. The Cowboys have played really well as of late, and Washington is forging ahead without its starting quarterback.
Going to Colt McCoy is about as safe as it can get when having to ride a backup QB. He's been there for what seems like forever, knows the system, and in the past has shown he can be perfectly serviceable. However, the short week throws an interesting wrench in the proceedings. Not to mention the fact he's going against one of the better defenses.
Explosive plays aren't exactly the calling card for the Cowboys. They'd rather bruise it out with Elliott. Which makes the "Cowboys by 7-12" a safe pick. If they get out to a seven-to-ten-point lead, they'll sit on it much the same way a soccer team up two goals would shift into ultra-conservative mode. Dallas will force Washington to have an answer, and the Redskins will struggle to have it.
For a chance to win a share of $1,000,000 by simply making correct predictions for tonight's game, download the GameOn app. No player draft, or no difficult point system. Download HERE!