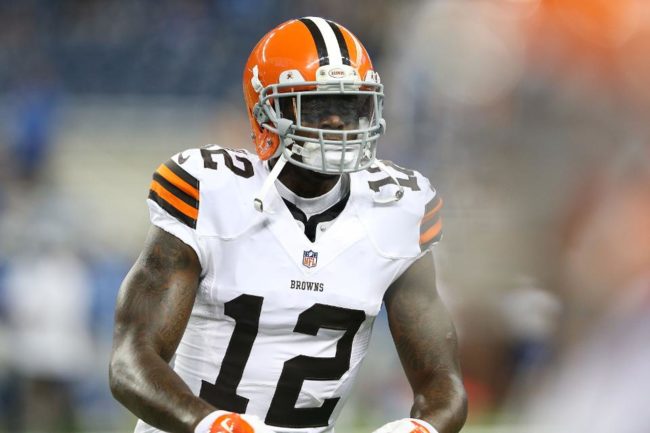 The Cleveland Browns have struggled to get a win this season, but now they may have a little help on the offensive side. Receiver Josh Gordon has been conditionally reinstated by the NFL today. Adam Schefter reported the news on Twitter today.
Browns WR Josh Gordon conditionally reinstated. He's eligible to practice on November 20th, be on the 53-man roster November 27th.

— Adam Schefter (@AdamSchefter) November 1, 2017
The Browns executive vice president Sachi Brown released this statement following the news of Gordon's reinstatement.
"We've been informed of the league's decision to reinstate Josh. The personal well-being of all our players is of the utmost importance to us. We respect and commend Josh for taking the steps necessary to have the opportunity to return to the league. Josh will be in our building in the coming days and we look forward to having him back and sitting with him to discuss his future on our team."
Gordon has not played in an NFL game since December 21, 2014. Repeated violations of the league's substance abuse policy. Gordon recently opened up about his struggles and willingness to play football.
The Browns have struggled this season. They currently sit at the bottom of the AFC North with a 0-8 record. There is really no hope at a playoff run and instead will compete with the San Fransisco 49ers for the number 1 pick in the upcoming NFL Draft.
Having Gordon back does not solve any issues on the Browns offense but he is a nice weapon to have. Gordon had 1,646 yards on 87 receptions and 9 touchdowns in 2013.
Gordon will be eligible to return to team activities on November 27. The earliest possible game for Gordon to play in is their December 3 matchup against the Los Angeles Chargers.