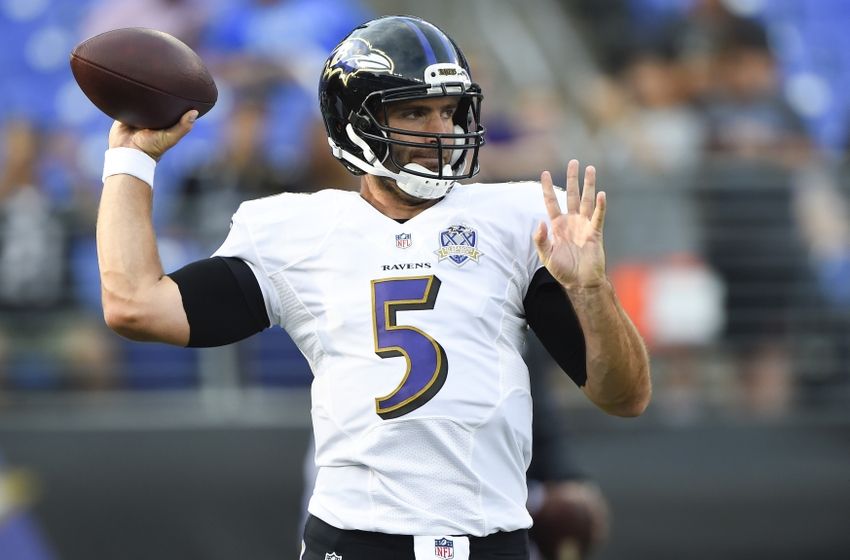 The Baltimore Ravens made the playoffs in each of Joe Flacco's first five seasons, culminating in a Super Bowl victory in 2012. Recent history has not been so kind to Joe and the Ravens as Baltimore has missed the playoffs in two of the last three seasons since Flacco signed his contract after the Super Bowl win. Flacco missed the last six games of the 2015 season with a torn ACL and the Ravens went 2-4 without Flacco.
Now the Ravens are going to cement Flacco in Ravens history of the foreseeable future, signing him to an extension through 2021.
Following from Ian Rapoport of NFL Network.
The #Ravens and QB Joe Flacco have agreed to terms on a 3-year extension, source said. He's under contract through 2021

— Ian Rapoport (@RapSheet) March 2, 2016
The #Ravens and Joe Flacco created his first deal with the intention of re-doing it this year, given the $28.5M cap number. That'll go down.

— Ian Rapoport (@RapSheet) March 2, 2016
Full details aren't yet available on Joe Flacco's contract extension, but I'm told Flacco got a $40M signing bonus. Not bad.

— Ian Rapoport (@RapSheet) March 2, 2016
The move clears some cap space for the Ravens with the offseason fast approaching. Flacco's contract would have counted $28.55 million against the salary cap in 2016. The financial details of Flacco's extension haven't been released, but it makes the Ravens' cap situation a little more favorable. With more cap space and Flacco signed through 2021, the Ravens can turn their attention toward beefing up the offensive line as well as some secondary and pass-rushing help on the other side of the ball.