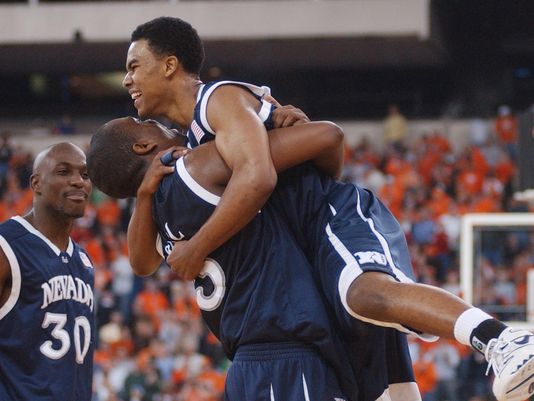 The University of Nevada received a sizable donation on Tuesday from one of its most famous alumni.
Ramon Sessions, currently playing for the Charlotte Hornets, donated one million dollars to his alma mater to be used for a new training facility for the men's and women's basketball programs. The new facility will be named the "Ramon Sessions Basketball Performance Center."
In one of the largest gifts ever given to Nevada, Ramon Sessions has pledged $1 million towards a new basketball and athletics facility.

— Nevada Wolf Pack (@NevadaWolfPack) October 4, 2016
The full cost of the project is about $2.5 million so Sessions' donation is a huge percentage of that. It's also a large percentage of the money he makes, as he is set to earn $6 million this season.
But Sessions felt that it was important for him to give back to the school that helped him become an NBA player.
"For me, giving back to the University of Nevada means a lot. It's a second home for me. It's a school that gave me a chance when a lot of schools didn't. So for me it was only right. It was one of those things just coming up as a college kid, I remember being at college at the University of Nevada and we didn't always have access to a gym. A big-time university, nowadays everybody has access to a gym. Coach [Mark] Fox preached about it, trying to get a gym built, a practice facility. It was one of those where as my career went on, I said, you know, 'One day, hopefully I can give back to the community and help out in that situation.'

[…] For me, I'm blessed enough, ten years in the NBA, to give back to my second home. […] I just wanted to put my stamp on it and I'm here to tell you guys in Reno that I'm pledging an asset of one million dollars to give back to the school to help build a practice facility. I'm excited about it. I know the coaches are excited about it. I know once this gets going, the community will be excited about it because the Wolf Pack [are] are a big deal in Reno and it means a lot to give back to you guys cause you guys helped get me to where I am today."
Sessions' gift is thought to be the largest by any former Nevada athlete. As he claimed, it was a phenomenal way of giving back to the school he attended and played for from 2004 to 2007. The current Hornet has given back to that community before, holding basketball camps in Reno during the offseason.
Nevada is not known as a powerhouse university as it pertains to athletics. But under the guidance of new head coach (and former Warriors and Kings coach) Eric Musselman, the men's basketball program has turned a page. Musselman was among many to thank Sessions for his huge help.
Now with Ramon Sessions' help, the teams will have the practice facilities necessary to improve and become legitimate threats in the Mountain West conference and perhaps in the NCAA tournament in the future.
From one Nevada legend to another, thank you, Ramon.