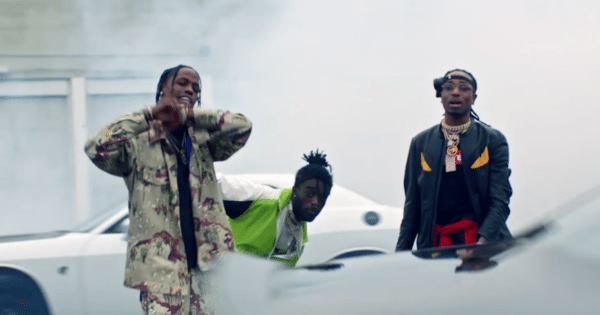 Happy Sunday.
Quavo tweeted a nice thing for trap lovers to wake up to this morning. Around 2 AM EST, Huncho tweeted that he and future H-Town legend Travis Scott are almost done with their collab album. This is huge as this is one of the most anticipated albums of the summer, by far.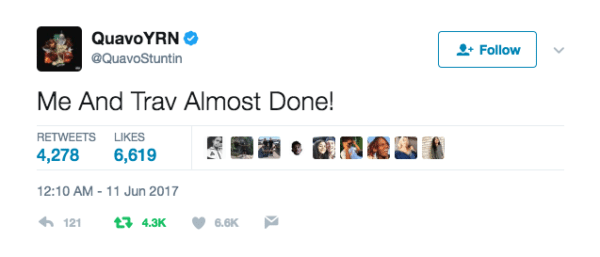 If you have ears, you've probably heard at least one song that Travis Scott and Quavo have been on together. The two have linked up too many times to count for multiple bangers; from last summer's vibey anthem 'Pick Up the Phone' off Birds in the Trap Sing McKnight, or even Drake's 'Portland' off of More Life. When the two link up, they produce trap harmony that soothes the soul and ignites it at the same time.
There is no confirmation of a title or release date, as Travis hinted he "likes surprises". However, he has confirmed the names of two tracks (previewed below) on the album that are called 'ReRun' and 'Lo Fi', which will feature Offset.
This summer will be a hot one, and this album will make it twice as hot. It's safe to say that these two are some of the hardest workers in the industry. Travis Scott has already put out 3 new songs since May that put the internet in a choke hold. If you haven't checked out A Man , Butterfly Effect or Green & Purple , then you need to get on it. Quavo has been busy as well; from teaming up with Major Lazer to solo projects to dropping a sure-fire, summer banger with the rest of the Migos trio called To Hotty .
Stay tuned for more news about the collab, and check out some previous Travis Scott & Quavo collabs in the meantime.
Travis Scott/Young Thug – Pick Up the Phone (featuring Quavo)
Drake – Portland (featuring Travis Scott and Quavo)
Travis Scott – Sloppy Toppy (featuring Migos and PeeWee Longway)
Migos – Kelly Price (featuring Travis Scott)