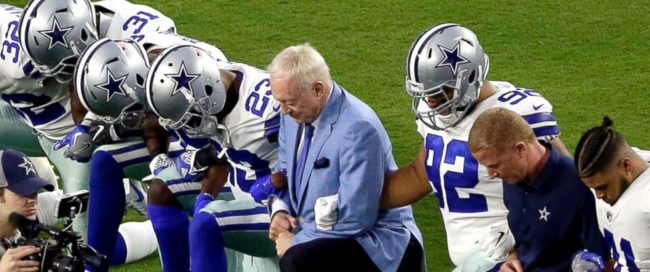 In week three, the NFL saw teams kneeling in unity for National Anthem protests. According to Ian Rapoport of NFL.com, before the Dallas Cowboys took the field that Monday night, Jerry Jones received four phone calls from the Commander and Chief asking that "America's team" not kneel for the National Anthem.
This week teams have anthem plans. It was tense last week, with @realDonaldTrump calling Jerry Jones 4 times & imploring him not to kneel: pic.twitter.com/D8jvrV4Aze

— Ian Rapoport (@RapSheet) October 1, 2017
The Cowboys chose not to listen to the President and kneeled prior to the National Anthem. Once the Anthem started, the team stood as it was sung.
It is important to note that the Dallas Cowboys were not the only team to participate in the National Anthem protests. These protests were in response to Donal Trump's choice words for the NFL and its players.