It's been a minute since we've seen a Power spin-off, right? Ok, that was a bit of unneeded sarcasm, but Sunday provided a lot of heavy television. Starz delivered not one, but two episodes of Power while HBO offered the latest installment of the Euphoria saga.
Fortunately, the first episode of Power Book IV: Force provided a few moments of laughter by way of "Mr. Cancel Christmas" himself, Tommy Eagan. Whether it was Tommy's decision to refuse to give up a parking spot or people thinking that he's from Boston, Tommy was in a rare form. If the season debut is any indication of what is to come, it appears that the series will showcase all of the elements of Tommy that fans have come to love while also adding a few layers to his character.
As Tommy embarks on the latest chapter of his wild life, there a few questions that will need some answers. Here are four questions that I have after watching "A Short Fuse and a Long Memory" from the mind of Courtney Kemp.
Who is Tommy talking to on the phone?
At the end of Power Book II: Ghost's first season, Tommy hinted that he'd end up in California. Little did we know, he had already set up a few phones calls, landed a job and was expected to show up in "The Golden State" while Tariq was in New York beating a handful of charges. While Tommy may have had plans to end up in California, he felt compelled to stop in Chicago and meet up with the only family member he has left — his grandmother.
Throughout his time in Chicago, Tommy answers a series of phone calls from a man who is apparently expecting him in Los Angeles. Over time, it becomes clear that Tommy isn't going out west, but two questions still remain. Who was he talking to on the phone and will that person come to look for Tommy in Chicago? While the answers to those two questions are still up in the air, Courtney Kemp have provided Tommy with enough challenges in Chicago before he even begins to think about Los Angeles again.
Why has Tommy never mentioned his grandmother before?
Early in episode one, Tommy finds himself on a residential street in Chicago. Unaware of how "The Windy City" gets down, he parks in a reserved parking spot and enrages a Chicago native. Quickly, "The Windy City" native pulls out a knife and begins to threaten the former New York resident. As expected, Tommy easily disarms the guy, but he doesn't hurt him. Instead, he points to the empty house to their right and asks if it's still occupied by the older woman who owns it. Much to Tommy's surprise, Tommy learns that the woman in question moved to a nearby nursing facility called Mulhern's
Throughout the Power Book IV: Force premiere, Tommy returns to the nursing home. While there, two important details are revealed. First, the woman that he's interested in catching up with is his grandmother. Shortly after catching up with his grandmother, Tommy is nearly held at a gunpoint by a man who turns out to be his brother. After all of that, there's only one question left to ask. What the f*ck Kate?
Kate Eagan was never a great mother, but neglecting a child is messed up. Also, Tommy repeatedly called out Kate during the original Power series, but he never mentioned that he had been kept from seeing his grandmother for all of these years. Furthermore, it makes no sense that Tommy would be able to just remember his grandmother's address after all of these years. With that said, Power sometimes has its way of getting to the point without making much sense along the way. It's about the destination, not the journey, sometimes.
Why does Tommy love Larry Bird so much?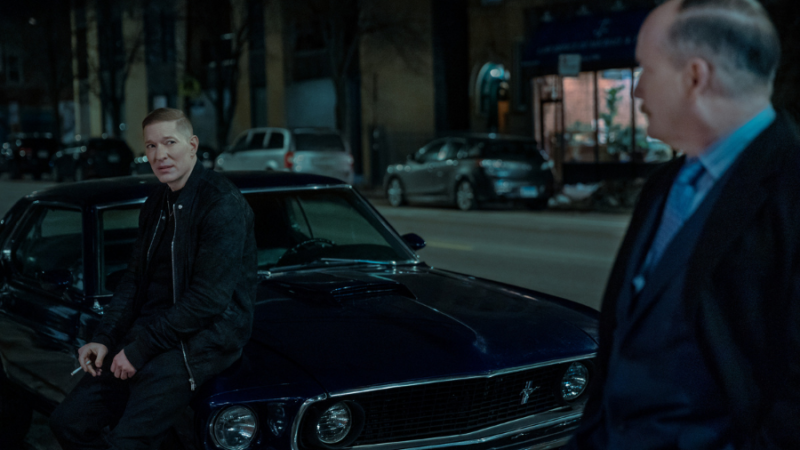 Still reeling from the loss of Lakeisha, Tommy opens his heart back up for a local bartender by the name of Gloria. The two first meet at Gloria's bar shortly after Tommy stops by Mulhern's for the first time. Quickly, the two exchange a few words and make a connection. At some point during their flirty exchange, Gloria promises to offer Tommy some pepper pot soup if he comes back later in the day. As someone who has never turned down a meal in his life, Tommy returns to the bar that night.
With his car parked in front of the bar, Tommy stands in the cold as he smokes a cigarette in his signature black leather jacket. Moments into his smoke break, a black car pulls up and Vic Flynn, son of organized crime boss Walter Flynn, demands that he move his car. Being the man that Tommy is, he refuses and a scuffle ensues. At one point, Flynn's partner tells Tommy that he should go back to Boston. He later adds that he hates Tom Brady and Larry Bird. Fortunately, Paulie 'Pierogi' Muzaski, a mysterious man who works for the Flynn family, breaks up the fight and all four men head into the bar.
Never one to let things go, Tommy catches Vic's partner alone in the back of the bar and you can imagine how that went. The guy ends up with a broken arm, bloody face and a ton of embarrassment.
As Tommy nearly killed the man, he says that he hates Tom Brady, but he loves Larry Bird. Now, this isn't an important aspect of the plot, but it's weird. Why would a New York native hate Tom Brady, but love Larry Bird? Throughout Tom Brady's career, one team earned the reputation of being his kryptonite — the New York Giants. On the other hand, Larry Bird gave the New York Nets and New Jersey Nets hell throughout his career. If Tommy would hate anybody, wouldn't it be Larry Bird?
What is Gloria lying about?
Gloria has quickly emerged as one of the more important characters in the latest Power spin-off. Taking the role of Tommy's new love interest, she has bit of a back story herself. While she doesn't have any key scenes of her own, it does appear that she has an emotional past that is somewhat tied to Vic. Not to mention, it appears that her bar is being used as a front for the Flynn family. Later on, she catches Tommy beating a man to a pulp and she doesn't even flinch. It's almost as if she's been around this many times before. To top it all off, she tells Tommy that her husband was deployed for war and never came back. She insinuates that he's dead, but that feels too convenient for a Power series. Gloria could be telling the truth, but it just feels as if she's hiding something.