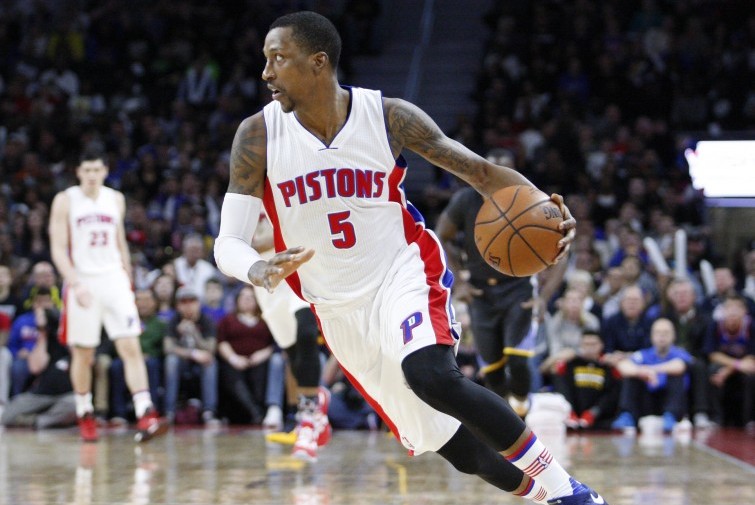 The Detroit Pistons had themselves a busy offseason. After a promising season last year that saw them compete with the Cavs in the first round of the playoffs, the team made moves to get even better. That included adding free agents like Ish Smith and Jon Leuer.
But any significant growth that the Pistons will have as a team will likely come from within last year's core. Detroit has a great, young core of players centered around Andre Drummond and Reggie Jackson. If they are to contend soon, they will need those players to make some leaps.
Regardless of what they need from their core players, the Pistons feel strongly about what they have. In fact, they are in the midst of negotiating extensions for two of those questionable but important players: Kentavious Caldwell-Pope and Reggie Bullock.
From general manager Jeff Bower (via Vince Ellis of the Detroit Free Press):
"We're probably continue to take those talks a little bit further through the month and see if there's an opportunity to reach an extension now and if we can, that will be great for both of us," Bower said during media availability. "If we can't, we'll go into next summer."
Caldwell-Pope is definitely the better player of the two. The 23-year-old is already one of the better perimeter defenders in the league and has an improving offensive repertoire. Bullock, meanwhile, has not had many opportunities to show himself on the court, but after signing with the Pistons last season, he had a bit of a break-out year.
Both Kentavious Caldwell-Pope and Reggie Bullock figure to be significant pieces for Detroit, moving forward. KCP is clearly the more important player to lock up long term. However, Bullock's improvements make him a great young piece to have, moving forward.