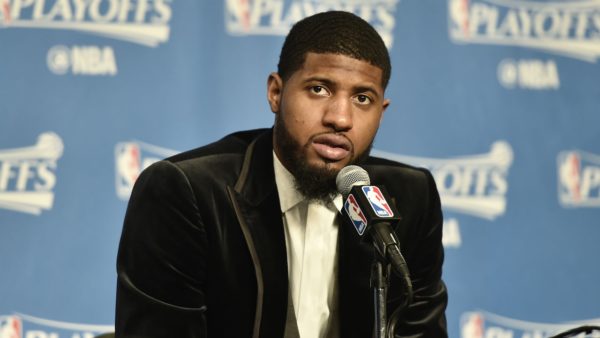 While Paul George may not be universally recognized as a top-5 player in the game anymore, he remains one of the league's most deadly players on both ends of the floor. He's an assassin on the offensive end, capable of scoring in a variety of ways while also playing lockdown defense on the opposing team's best player.
The Oklahoma City Thunder recognize such and made a significant decision this past summer, sending Victor Oladipo and Domantas Sabonis away to acquire George from Indiana in a trade on July 1. The club envisioned a day where George would share the court with the team's superstar (and Most Valuable Player) Russell Westbrook — that day is now set for two weeks.
George, when recently asked about the Most Valuable Player award and teammate Russell Westbrook, gave a completely straight-forward response.
"I'm going for it," George told NBATV, speaking about the MVP award. "I'm going for the hardware."
George said a top priority for the team is to figure themselves out. Building continuity and flow is always important, especially with two ball-dominant players. George made clear him and Westbrook are focused on team success first, and that he'll come in to help give Westbrook a boost this season.
"Russ and I are both guys that want the team success. We want the team to do extremely well," George said. "It's not on myself, it's not on Russ. As I told him, I'm here to come in and help and give him a boost."
George closed his remarks with an understandable statement.
"It's hard to make a guy that averaged a triple-double better," George said while laughing.
George is coming off one of his best scoring seasons of his career with the Pacers, averaging a career-high 23.7 points on 46 percent shooting from the floor. While his usage rate will almost certainly decline, his sights are set on two things this season: The NBA Championship and the Most Valuable Player award.