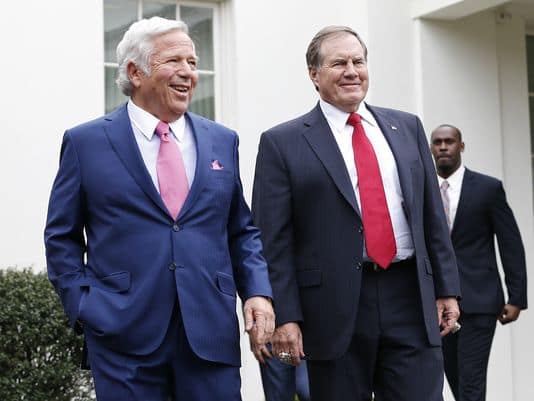 The New England Patriots have had a bit of a checkered past when it comes to league infractions and being punished by the NFL. And now we can add one more chapter.
New England will be fined $1.1 million dollars and the league is also taking away a third-round draft pick from the team in the 2021 NFL Draft for unapproved footage taken by the Patriots' film crew leading up to and during a game last season against the Cincinnati Bengals.
NFL has handed down these penalties to the Patriots for their television crew filming the Bengals-Browns game in December, sources tell @MikeReiss:

?$1.1 million in club fines.
?Loss of 2021 third-round pick.
?Patriots' TV crews not allowed to shoot games during 2020 season.

— Adam Schefter (@AdamSchefter) June 29, 2020
As part of the punishment, the league is banning New England's film crew from filming anything during the 2020 season.
In the past, the team has been disciplined for filming the New York Jets in a manner that went against NFL rules ahead of a game in Sept. of 2007. That resulted in the team being fined $750,000 (of which $250,000 was charged specifically to head coach Bill Belichick) and was forced to forfeit the 31st pick in the 2008 NFL Draft.
The sides also clashed over the infamous "Deflategate" scandal which revolved around footballs being used by the Patriots during the 2014 AFC Championship game against the Indianapolis Colts. That matter went to court on several occasions and played out over the course of more than a year before it ultimately led to the team being fined $1 million and stripped of a first and fourth-round pick in the 2016 draft. Also, then-starting quarterback Tom Brady was suspended for four games for his part in the matter.
Brady signed with the Tampa Bay Buccaneers this offseason and will enter his age-43 season for the first time with a team other than the Patriots. The team has since signed quarterback Cam Newton.