NBA warm-ups are excessively routine. Some of the larger players do some light post work against what is normally a much smaller coach, guards get into shooting competitions that never force them to move at more than a light jog, and in 2018, nearly every player shoots threes. These warm-ups are designed to keep players loose and allow them to work out the kinks before a physically-taxing game; they are meant to be at half speed.
For Patrick Beverley, they are just another chance to prepare for battle. While others almost coincidentally shoot around the arc, he is aggressively driving to the hoop against a purposely rough defense. Welcoming and forcing away more contact than any other player.
Beverley explained his reasoning exclusively to Def Pen Hoops, "I just like to simulate how the game is. I know the game has a lot of contact and I just want to simulate it for a little bit, get used to it before the game starts."
This desire to mimic the fight before the fight begins has awarded Beverley the coveted "tough" designation amongst NBA fans. This imaginary award is a badge of honor given to players who, even if they are not beloved, deserve respect. It even serves as a very real badge in "NBA 2K" and has caused millions to idealize the mentality of a certain kind of serpent.
Players with this classification usually are described with possessing a certain mental toughness. An unbreakable will that can push its way through any and all obstacles. The problem is, mental toughness is a trope. It is nothing more than a narrative tool used to fit athletes into an archetypical box so their stories can be easily delivered to fans.
Human beings are not unbreakable. They are actually incredibly fragile, and Beverley had to confront his own fragility 11 months ago. At the beginning of last season, he got hurt and required surgical repair of a micro-fracture and meniscus. This not only ended his season but began him on a path of rehabilitation that very few athletes are prepared for. Beverley described it simply: "Hard as fuck".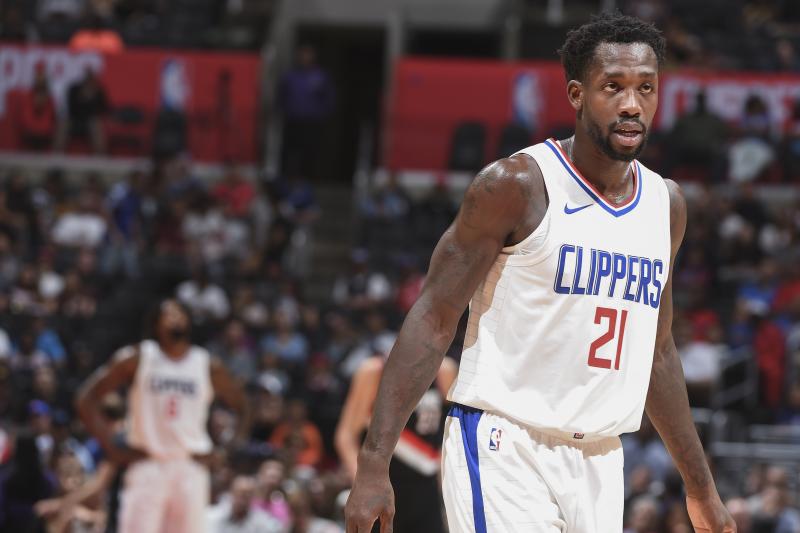 He continued to say it was "one of the hardest times of my life. I could not walk for eight weeks, I could not bend my leg for a month and a half to two months…I was on the couch for eight, nine weeks. It was the hardest shit I have ever been through."
Hardships even affect the most stable of people. Major injuries have a vast impact not only on the physical makeup of a player but their mental stability as well. Dr. Britton Brewer, a Professor of Psychology and author of many books regarding sports psychology, told Def Pen Hoops that "there are some general trends in how athletes respond psychologically during sports injury rehabilitation (such as one's emotional profile becoming more favorable over the course of rehabilitation)."
This acknowledgment of a direct correlation in rehab and emotional state makes the absence of psychologists in the rehab process that much more puzzling. Professional athletes dedicate their entire lives to their sport by sculpting immortal physiques. When their bodies then fail them, it can become completely traumatizing. Beverley, despite disagreeing about the necessity for a psychologist in the process, confessed to needing help from others. When asked about it, he jokingly but honestly called his mom his psychologist before saying that he, "talked to JJ Watt. He told me to set a lot of minor goals, a lot of milestones. And I did not miss a day of my rehab… I just needed my family and friends to help me get it through it all."
This type of help not given but instead searched out for is not uncommon. Dr. Brewer thinks people are beginning to understand that psychologists may be beneficial in rehabilitation "but not to the point where resources are allocated (at least not routinely) to psychological interventions for athletes with injuries."
This causes players, even as tough as Beverley, to call rehab the biggest challenge of their lives. The injury process and the physical pain of rehab are enough to deal with. Not having a sufficient outlet to improve mentally in this process could become damaging.
It is unknown how many players careers were critically altered because of an injury. Not because of a reduction in physical ability but a depreciation of mental stability. The injury, or the path back, proving too damaging to rebound from. Psychologists may not help in every circumstance but their complete absence is shocking and could, years from now, prove to have been an irreparable mistake.
Despite this exhausting process and its potential to become career altering, just as he was hours before, Patrick Beverley is on the court hours after a meaningless preseason game ends. A game wherein the 3rd quarter the Nuggets starters may as well have left for the airport, Beverley was drawing charges and successfully fronting a seven-footer out of the post. He remained on the court, working hard and sweating more heavily than any player that touched the court that night. Just as he has his whole career, crashing past the obstacle in his way by working harder than anyone else.
Doing so in an empty gym, proving his toughness to no one but himself because if you ask him, he is not nearly as tough as he is perceived to be, he is just more open to the challenge.
As he said confidently about the last 11 months, "It was not an easy task but it was a perfect task for me."