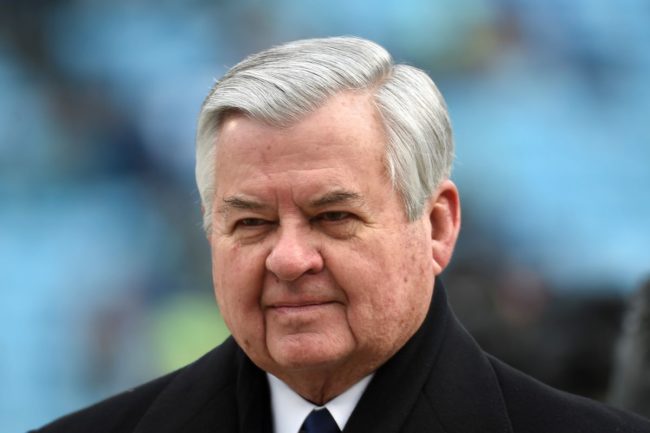 Outgoing Carolina Panthers owner Jerry Richardson has been fined $2.75 million by the NFL after an investigation into sexual and racial misconduct in the workplace. Adam Schefter shared a picture of the official statement from NFL commissioner Roger Goodell on Twitter.
NFL announcement that former Panthers' owner Jerry Richardson is being fined $2.5 million after its investigation into Caroline's workplace environment. pic.twitter.com/dTQonZizen

— Adam Schefter (@AdamSchefter) June 28, 2018
Mary Jo White, a former U.S. attorney, conducted a private investigation into Richardson and the organization. She found that the allegations against Richardson were true and that the team failed to report the allegations to the league.  NFL Network's Ian Rapoport shared findings from the investigation on Twitter.
After the investigation into #Panthers owner Jerry Richardson by ex-US Attorney Mary Jo White, she released four main findings (below). Here is the full link: https://t.co/PuC5kMLFdl pic.twitter.com/OBZQny85si

— Ian Rapoport (@RapSheet) June 28, 2018
Sports Illustrated broke the story of the sexual harassment claims against Richardson. In a letter published by  Sports Illustrated, one woman described her encounter with Richardson.
"I didn't know what to do when you called me to your stadium suite in the middle of the week so you could take off my shoes, place my legs in your lap and rub their entire length, from toes to crotch. I didn't know what to do when you asked me to turn around so you could see how my jeans looked. I didn't know what to do when you brushed my breasts to put my seat belt around me in the front seat of your car. I didn't know what to do when you put your hands on my mouth, for me to kiss them. I didn't know what to do when you asked me uncomfortable, sexually charged questions."
The investigation into Richardson began in December of 2017. Shortly after the investigation began, Richardson stepped away from the day-to-day dealings with the team and put the organization up for sale.
The sale of the Panthers to Pittsburgh Steelers minority owner David Tepper was approved by league owners in May. Tepper will be purchasing the organization for over $2.2 billion. Richardson bought the team in 1993 for $206 million.